World news story
UK provides assistance to victims of violence and harassment
The British High Commission in Colombo contributes funding to shelters in Colombo which provide assistance to the vulnerable and to victims of domestic violence and harassment, forced marriages and victims held against their will.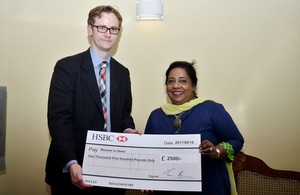 These shelters also provide assistance for British Nationals and other tourists visiting Sri Lanka.
The High Commission supports the work done through shelters run by Women in Need (WIN) to provide shelter, counseling and legal services and ensure the protection of victims from further violence. The support network provided by WIN extends to the victim's dependent children.
Deputy British High Commissioner to Sri Lanka Tom Burn, on his recent visit to the WIN shelter, said:
The UK is committed to addressing violence against women and girls around the world. We believe that tackling violence against women and girls is essential to defending human rights. Therefore we support the work of organisations such as WIN who ensure that victims of violence are provided temporary shelter and the support they need to protect themselves and their dependent children. Similarly, we seek to ensure that when British Nationals in Sri Lanka are the victims of violence or harassment – they are also provided with necessary support.
Executive Director of Women In Need Savitri Wijesekera said:
Our shelter is for women and girls subjected to all forms of violence and abuse. They are given space and comfort to think about their future; while counselors provide psychological support and legal advice.
Similarly, the BHC in Colombo supports the work done by the Centre for Society & Religion (CSR) to provide assistance to anyone in dire need and who has no other source of support. The CSR provides vital support to the vulnerable, including British people who visit Sri Lanka but find themselves in dire circumstances with no other support, ensuring they have somewhere safe to stay until their return to the UK.
Published 23 August 2017