World news story
UK Prosperity Fund supporting 14 new projects in South Africa
Deputy High Commissioner announces partnerships to support economic growth and development in South Africa and the region in 2015/16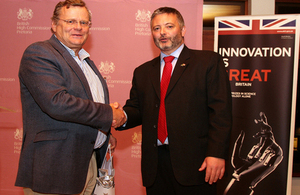 At an event hosted by Deputy High Commissioner Peter Boxer on Thursday 28 May 2015, the British High Commission in Pretoria announced 14 new projects receiving support from the UK Prosperity Fund in South Africa and the region. The event – attended by 70 leaders in business, civil society and government – also celebrated the successes of Prosperity Fund projects which concluded in March 2015.
The Prosperity Fund is the UK Foreign and Commonwealth Office's global fund supporting economic growth. Through targeted projects, it aims to support South Africa's development by fostering opportunity, openness and sustainability as core components of global growth.
In 2014, the Prosperity Fund invested R12 million (£700,000) in 12 projects across South Africa focused on trade, investment, education, science and innovation, governance, extractives and climate change and energy.
New Prosperity Fund projects will foster sustainable growth by addressing issues in climate change and energy, education, economics and trade, illegal wildlife trade and science and innovation. They include support for:
development of the Indian Ocean's 'blue economy'
the education programme of the Bloodhound Supersonic Car project
promoting best practices in public-private partnerships in the Southern Africa region
a joint project between Google, the British Council and Livity Africa to deliver scarce digital skills and increase the employability of young South Africans.
Photos from the event are available here.
UK Prosperity Fund projects in South Africa and Southern Africa for 2015/16
Climate Change & Energy
Working with the Amakhosi, this project will increase awareness for eco-friendly land management policy and practice, and strengthen links between traditional leaders and municipalities, government departments and NGOs to facilitate an integrated approach to rural development. These workshops are designed to influence actual practices in the use of land and natural resources.
Harnessing opportunities in the western Indian Ocean blue economy
This project will support the development of the Indian Ocean 'blue economy' and help leverage the UK's world-leading expertise in the key sectors of the ocean economy in South Africa, Mauritius and the Seychelles.
University of Cape Town: Translating the South African Experience in Renewable Energy Investment through the Southern African Region
This project will help countries in the SADC region learn from the South African Renewable Energy Independent Power Producer (REIPPP) procurement experience and assist with implementation of competitive tenders of their own to increase investment in grid-connected renewable energy projects.
WWF: Developing Climate Resilience in Agriculture Value Chains
Through this project, WWF will help promote the development of climate-resilient agricultural value chains by working with Marks & Spencer and Woolworths in South Africa to develop a shared understanding of and response to food supply risks posed by climate change.
Economics and Trade
This project will raise the awareness of public-private partnerships (PPP) and offer the UK's expertise in PPP mechanisms to government officials in Mauritius, Zambia, Zimbabwe, Madagascar and South Africa.
National Business Initiative: Supporting the NDP's implementation through business action
This project seeks to empower business to play a role in implementing the National Development Plan by developing a voluntary action plan addressing key areas of the NDP's rollout. The project will identify specific areas in which the private sector can have a collaborative role in helping South Africa realise the ambitions expressed in the NDP, and help spur businesses to act on these priorities.
University of Pretoria: Developing an Integrated Reporting Centre of Excellence
Already a world leader in integrated reporting, the University of Pretoria will establish a centre of excellence to promote transparency and accountability in corporate reporting standards in South Africa and the UK. The project will help deliver qualifications in integrated reporting, promote integrated reporting to international stakeholders and unlock potential collaboration between the UK and South Africa.
Education
Working with Google and Livity Africa, Digify Bytes will deliver scarce digital skills and increase the employability of young South Africans through a new peer-led training initiative. The project will develop and deliver a 'train the trainer' module for 18-25 year-olds within the core Digify programme, and employ them to subsequently train up to 300-400 young people each over a series of three to four day workshops delivered on campuses.
Symphonia: Partners for Possibility
This project is aimed at equipping 10 principals of underprivileged schools with the skills and knowledge to lead change for improved educational outcomes. Symphonia will create partnerships between principals and business leaders to bring their skills, knowledge and experience of running organisations to help principals apply those principles in schools.
University of Venda: Understanding best-performing and under-performing schools in Thohoyandou: Towards improving efficiencies
This project seeks to identify what explains excellent performance of certain secondary schools in the rural district of Vhembe, Limpopo Province. University of Venda will facilitate a school-to-school support programme to transfer models of excellence to under-performing schools to improve educational performance.
Illegal Wildlife Trade
Endangered Wildlife Trust: Implementing model of zero tolerance toward wildlife crime and sexual/gender-based violence
Working with Hluvukani villagers and local officials – who are impacted by the non-reporting and commission of both wildlife crimes and sexual/gender based violence – Endangered Wildlife Trust will help develop community-wide attitudes of zero tolerance towards these crimes to help mitigate their destabilising effects on communities and the economy.
TRAFFIC: Cutting wildlife trafficking off at the source
This project focuses on strengthening the South African Government's investigative and law enforcement skills in wildlife crime at every stage, from the management of intelligence through to prosecution and sentencing.
Science and Innovation
The Bloodhound Education Programme is an extension of outreach supported by the Prosperity Fund in 2014/15, and a programme linked to the Bloodhound Supersonic Car project, which aims to break the land speed record in South Africa in late 2015. The Bloodhound Education Programme is a vehicle for inspiring young learners to continue their studies in mathematics and science to become part of the next generation of scientists and engineers. The Bloodhound team will work with partners across South Africa to bring the inspiration of a high-profile engineering adventure to as many students as possible.
By developing a skills training programme for mathematics and physical science teachers, the South African Institute of Physics will help improve teaching skills and learner outcomes in the critical areas of science, engineering and technology. The contribution to higher pass rates is key for South Africa's ability to manage global science projects (such as the Square Kilometre Array).
Published 4 June 2015