World news story
UK promotes lithium technology at Expomin 2018 in Chile
Seminar at Expomin mining fair aimed to encourage collaboration in developing low carbon solutions and a lithium supply chain.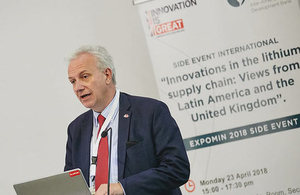 The British Embassy in Santiago and the Infrastructure and Energy Sector at the Inter-American Development Bank (IDB) organised on Monday 23 April the international seminar 'Innovations in the lithium supply chain. Views from Latin America and the United Kingdom'. This was part of the British participation at Expomin Mining Fair, the largest mining exhibition in the Latin-American region.
The seminar aimed to develop innovation in the lithium supply chain by:
developing stronger regional (Chile, Argentina, Bolivia) and international (United Kingdom) policy, industry and academic links
exploring future collaboration opportunities within the energy, mining and transport sectors
David Gardner, Director of the Department for International Trade at the British Embassy Santiago, said:
We would like to thank the Infrastructure and Energy Sector at the Inter-American Development Bank (IDB) for collaborating with us on the organisation of this seminar. Together, we are interested in promoting low carbon technologies, policies and innovative solutions related to energy storage and the development of value-added lithium products.

The opportunity for clean growth is at the heart of the UK public policy. Launched in 2017, the UK's Clean Growth Strategy sets out our policies and proposals for decarbonising the UK economy through the 2020s, building on the UK's significant progress to date.

Our Industrial Strategy aims to amplify and extend these plans across the whole economy, ensuring that our policies on innovation, skills, business, infrastructure, and local growth all support the goal of maximising UK advantage from the global shift to clean growth.
Lithium presentations at Expomin 2018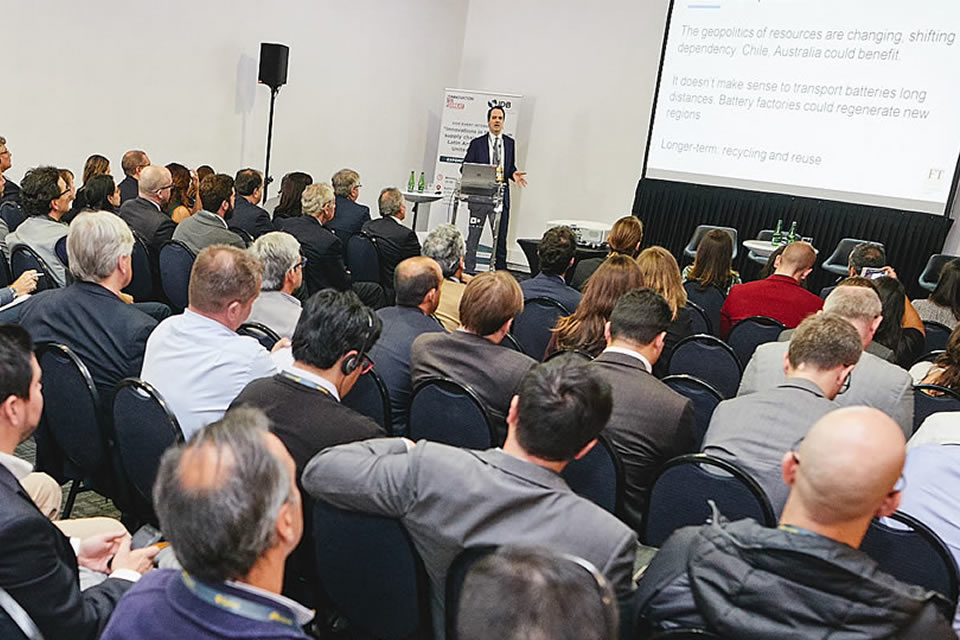 The seminar included:
UK - an opening session by Henry Sanderson, Commodities Correspondent at the Financial Times called 'Overview of the International Lithium Market'
The next session, 'Public Policy Experiences: Research, Development and Productivity in the Lithium Supply Chain', included presentations from:
Chile - Marcela Angulo, Technological Capacity Manager, CORFO from Chile, Public Policy Experiences: Research, Development and Productivity in the Lithium Supply Chain (PDF, 2.41MB, 19 pages)

Argentina – Agustín Campero, Secretary of Scientific and Technological Articulation at the Ministry of Science, Technology and Productive Innovation of Argentina
Bolivia – Juan Carlos Montenegro, Executive Manager, Yacimientos de Litio Bolivianos (YLP)
The final session included:
a presentation by Christopher Broadbent, from the UK's Institute of Materials, Minerals and Mining (IOM3), Fellow and Research Director at Wardell Armstrong called
Further information
Contact Heather Goodale, Green Growth and Climate Change Office, British Embassy, Santiago for more information on this event
For more information about the events and activities of the British Embassy in Santiago, follow us on:
Published 11 May 2018