World news story
UK project in Tamil Nadu - to end violence against women
A first of its kind project in Tamil Nadu, supported by the British Deputy High Commission Chennai will have national impact in helping to prevent and tackle violence against women (VAW).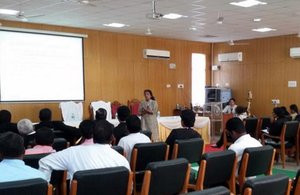 Bharat Joshi, British Deputy High Commissioner Chennai said:
Tackling the scourge of violence against women underpins most of the work the UK does globally and in India. This project is one strand of an on-going programme to support violence against women (VAW) practitioners, including with tailored guidance in Tamil.
The UK-supported project in Tamil Nadu will make a difference in three specific ways:
First, the 170 legal, police and judicial officers benefiting from the workshops in Chennai from 18 to 23 November will take back new learning to districts across Tamil Nadu and critically influence speedier and improved access to justice for women. They include sub-inspectors, inspectors from all-women police stations and chiefs of police in-service training centres that serve the districts. They also include district magistrates and advocates who deal with and decide on VAW cases on a day to day basis. The impact will be state-wide because many of these officers are trainers themselves influencing the knowledge and practice of their colleagues in the districts.

Second, flowing from these workshops will be a newly designed learning and sharing manual that can be used by VAW practitioners across India, to better understand and contextualise historical and new legislation and practice. The new manual will be launched nationally in New Delhi next year.

Third, the Tamil version of two VAW booklets that the British High Commission had supported publishing - meant to be a practical guide for VAW survivors and practitioners - will have wider use in Tamil Nadu. The Tamil Nadu's Women's Development Corporation plans to adapt this content for use across Tamil Nadu to reach far more women and self-help groups here.
Further information
Workshop sessions include VAW-related legislation (domestic violence, sexual offences & sexual harassment, protection of children from sexual offences, new procedures under criminal law amendment) and case studies. Sessions will offer batches from across Tamil Nadu, both men and women, the knowledge and tools required to better understand, contextualise and respond to VAW cases to ensure speedier, improved access to justice for survivors and potential victims. Sessions are meant to support existing and long-standing efforts by state agencies in Tamil Nadu such as the Women's Development Corporation, State Judicial Academy, Legal Services Authority and Police Training College.
The workshops are hosted by the British Deputy High Commission Chennai and organised by our partners New Delhi-based Lawyers Collective, New Delhi and Chennai-based PCVC and Women's Collective. The workshops are convened and delivered in partnership with the Tamil Nadu State agencies. Every year end November/early December is a period set aside as UN International Days of Activism for the Elimination of VAW.
This year the British High Commission is supporting related projects across India building awareness around safety and sexual harrassment among girls, ensuring greater social participation of tribal women, capacity building of civil society organisations who work with women's rights. This month, the British High Commission is also supporting a delegation of Indian women leaders to the UK to improve our shared understanding of gender issues and priorities - the delegation includes India's Chairperson on the National Commission for Women.
For media queries, please contact Rudy Fernandez or call on +91 9840340282.
Follow us on Twitter, Facebook, Flickr, Storify, Eventbrite, Blogs, Foursquare, Youtube, Instagram, Vine, Snapchat @UKinIndia, Periscope @UKinIndia
Published 20 November 2015