World news story
UK Prime Minister's new Trade Envoy visits Pakistan to increase UK-Pakistan trade
The UK Prime Minister's Trade Envoy to Pakistan Mr. Rehman Chishti MP visited Karachi and Lahore this week.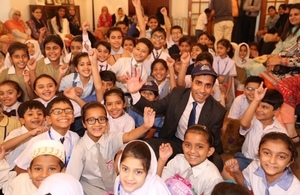 The visit was to encourage trade between the two countries, and included meetings with government representatives and businesses.
In Karachi, Mr Chishti:
met with the Governor of Sindh, Mr. Muhammad Zubair and Chief Minister of Sindh, Mr. Syed Murad Ali Shah, to explore how the UK can assist in creating UK investment opportunities
met Pakistan's Minister of Commerce, Mr Muhammad Pervaiz Malik, to reiterate the UK's firm support to continue the preferential market access Pakistan receives under the EU's Generalised System of Preferences (GSP) + after the UK leaves the EU in 2019
attended the launch of 'Emerging Pakistan', attended by the Prime Minister of Pakistan, and hosted by the Ministry of Commerce
attended the Expo Pakistan
met with school children at an event organised for the British publisher Ladybird at the Deputy High Commission
In Lahore, Mr Chishti:
met with Chief Minister of Punjab, Mian Shahbaz Sharif to talk about the role UK expertise in engineering, infrastructure, energy, healthcare and professional services can play in providing solutions to furthering the region's economic development
visited the Lahore Chamber of Commerce and met with business leaders
visited the Safe Cities Authority, which the UK supports, to witness the improvements being made to safeguarding security in Lahore.
Speaking about his visit, Mr. Rehman Chishti MP, the UK Prime Minister's Trade Envoy to Pakistan, said:
Pakistan is a great place to do business. It offers great opportunities in a variety of sectors and both our Governments are ambitious to see more British trade and investment in Pakistan, as well as Pakistani businesses exporting to and operating in the UK.

We are committed to working with businesses in both countries to strengthen these ties into the future.
Born in Pakistan, Mr. Rehman Chishti MP was elected MP for Gillingham and Rainham in the 2010 general election. He was appointed as Trade Envoy to Pakistan in September 2017.
Contact
Press Office
British High Commission
Islamabad
tel. +92 51 2012000

Notes to editors
For updates on the British High Commission's 70th Anniversary of UK – Pakistan relations, please follow our social media channels:
Published 14 November 2017