World news story
UK Prime Minister meets with senior business delegation in Pakistan
Over 100 British companies are active within Pakistan.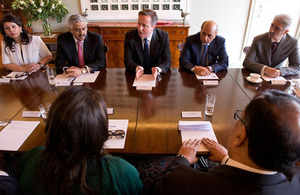 Today, on his second visit to Pakistan as British Prime Minister, David Cameron met representatives of companies including GlaxoSmithKline, Standard Chartered, TONI&GUY and Orion Energy. The Prime Minister also met inspirational young entrepreneurs representing Pakistan's future. During the meeting, Prime Minister Cameron heard about the companies' successes of investing in Pakistan, and about future opportunities to expand in the country.
Prime Minister Cameron stressed the importance his Government places on building ever-stronger trading links with Pakistan, capitalising on the unique people to people connections between the two countries. The Prime Minster also took note of some of the difficulties faced by the business community and pledged strong encouragement to UK businesses operating in Pakistan.
Signalling confidence in Pakistan's economic future, Prime Minister Cameron pledged a new target of increasing bilateral trade to £3 billion by 2015, building on the previous commitment of £2.5 billion.
Mr Cameron also set out the case for the UK as a place for investment and strongly urged Pakistani businesses to seize the opportunity to invest in the UK. The senior business delegates responded very positively to the meeting.
The UK has also been successful in ensuring that criteria for additional trade preferences foreseen under the GSP+ element if the EU's Generalised System of Preferences have been relaxed. As a result, Pakistan will become eligible from 2014.'
Further Information
British Prime Minister David Cameron met representatives of GlaxoSmithKline, Standard Chartered, TONI&GUY, Orion Energy, Lucky Cement Limited, Gul Ahmed Group, Nishat Group, Packages Limited, Servis Sales Corporation, Pakistan Trade and Investment Forum and Lewis Silkin.
Pictures of UK Prime Minister David Cameron's visit to Pakistan will follow later in the afternoon. Footage of Cameron's meeting representatives of companies and young entrepreneurs is available with APP video service (APP Contact: mediaflake@gmail.com; Cell phone +92 (0) 3005157746)
For latest updates and photos on the British Prime Minister's visit, please visit the following pages:
Published 30 June 2013