News story
UK police visit orphanage in South Africa
A team of UK police officers have taken time out of their policing duties at the World Cup to visit children at a local orphanage.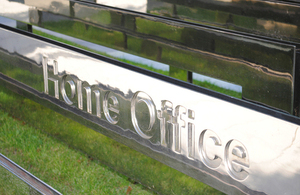 British police officers deployed in South Africa to help out during the World Cup took time out from their duties this week to visit children from an area orphanage.
Bringing football gear around the world
Before leaving the UK, the officers approached a number of football clubs to ask them to donate clothes and other items that they could then give to South African children in need.
This week the officers handed out kit from Stoke City, Manchester City, Liverpool, Tranmere Rovers, Newcastle United and Shrewsbury Town to more than 30 children at the TLC Orphanage in Eikenhof, near Johannesberg.
Dedicated staff
The orphanage is one of the few orphanages in the country that accepts children with disabilities. More than 10 percent of its 70 children are HIV positive.
It is run by a small team of volunteers, many of whom have adopted children themselves.
A humbling experience for the officers
Chief Superintendent Dave Lewis, from Merseyside Police said, 'It was a privilege to visit and bring some happiness to some lovely children who we all hope have a successful future. Their carers do a fantastic job.'
PC John Miles, from Staffordshire Police described as a 'levelling experience'. He added, 'It was so pleasing to see so many smiley and happy children of all ages. I take my hat off to those who take their time out to volunteer and care for these children.'
PC Alan Roberts, from West Mercia Police said he was 'humbled' by the visit. 'To see the pleasure on the kids' faces from things that we take for granted - like football kits - was fantastic.'
Want to help the children at the TLC Orphange?
If you'd like to donate to the orphanage the officers visited, you can make a donation on the TLC Orphanage website.
See more photos from their visit on our Flickr photostream (below).
Published 18 June 2010