UK pledges £10million to reduce deforestation in Brazil
The UK Government is giving £10 million to a joint project to tackle deforestation in Brazil, Environment Secretary Caroline Spelman announced…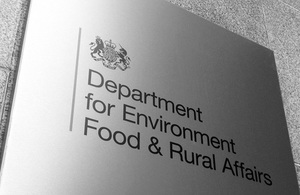 The UK Government is giving £10 million to a joint project to tackle deforestation in Brazil, Environment Secretary Caroline Spelman announced today (Sunday 4 December 2011) at the United Nations Climate Change Conference in Durban, South Africa.
The funding will support a project based in the Cerrado, central Brazil, and aims to reduce rates of deforestation by supporting environmental registration of rural properties and by helping farmers restore vegetation on illegally cleared land.  It will also fund measures to prevent and manage forest fires.
Speaking at the conference on International Forest Day, Mrs Spelman said:
"The Cerrado is rich in biodiversity and yet, alarmingly, it has almost halved in size, because of wild fires and the demand for agricultural products.  If we're going to stop the loss of biodiversity, we need to protect our forests - which house the majority of the world's wildlife.  We won't succeed in tackling climate change unless we deal with deforestation. 
"The £10 million funding I'm announcing today will help farmers in the Cerrado to restore natural habitats, reduce forest fires, and ease the pressure for more deforestation to provide land for agriculture in the Cerrado."
Izabella Teixeira, Brazilian Environment Minister, welcomed the bilateral cooperation:
"In past years, Brazil has been leading a consistent policy to reduce deforestation. In the Amazon region, we managed to reduce deforestation from 27 thousand km² in 2004 to 7 thousand km² in 2010, a 75% decrease. This successful experience in the Amazon has inspired us to broaden it to other affected regions, such as the Cerrado, the Brazilian savannah. In this context, we welcome the timely cooperation between Brazil and the United Kingdom, in line with the Brazilian interest to protect its forests and eradicate poverty".
The Cerrado biome in central Brazil covers almost one quarter, or 2.04 million km2, of the country.  It is home to 5% of the planet's biodiversity and is one of the most biodiverse savannas in the world.  The area is considered to be one of the world's 34 biodiversity hotspots by Conservation International.  
The UK Government is helping developing countries to prevent the loss of forests as part of wider efforts to enable them to adapt to the impacts of climate change whilst continuing to promote low carbon, resource efficient development and the sustainable use of natural resources.  The UK wants to see gross tropical deforestation halved by 2020 and net global deforestation halted by 2030.
The world's forests are home to over half of the world's plants, 80 percent of the world's terrestrial species and support the livelihoods of over one billion people, while deforestation accounts for almost a fifth of global greenhouse gas emissions.  Forests have effectively disappeared in 25 countries and another 29 countries have lost more than 90 percent of their forest cover. Deforestation is leading to the loss of some 13 million hectares (130,000 km2) of forests a year.
Through the International Climate Fund, the UK is providing £2.9 billion to a number of projects to tackle climate change; .a significant proportion of this money will be for forests in support of REDD+ (Reducing Emissions from Deforestation and Forest Degradation).  The UK is developing a forests and climate programme that will support developing countries on REDD+ and which will provide specific benefits for biodiversity as well as tackling greenhouse gas emissions and reducing global poverty.
Notes
The UK Government's participation in REDD+ is co-ordinated across DECC, DFID and Defra. At the Copenhagen Conference of Parties on climate change in 2009, the UK Government announced £1.5 billion funding for international climate change projects to 2012. Following the Comprehensive Spending Review, this has been increased and extended to £2.9 billion to 2014/15. The £2.9 billion will include significant new money for forests on top of the existing £300million commitment towards REDD+ made at last year's Copenhagen Climate Conference. The final amounts are still under discussion.
Published 4 December 2011