World news story
UK-Peru Trade: working to ensure no free trade gap
The UK Minister for Trade Policy, Lord Price, met Peruvian officials and emphasized the UK's commitment to free trade.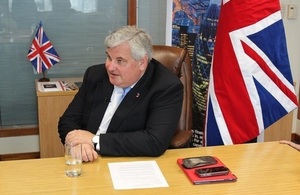 The UK Minister for Trade Policy at the Department for International Trade, Lord Price, visited Lima where he met Peruvian government officials and British and Peruvian business leaders.
Throughout his visit, he emphasized the UK's commitment to free trade and discussed a transition agreement to ensure continuity of the gains achieved by the current EU-Peru FTA, once the UK leaves the EU. In just over 24 hours, Lord Price met with the Minister for Foreign Trade Eduardo Ferreyros, Foreign Minister Ricardo Luna, Second Vice President Mercedes Araoz, the UK-Peru congressional friendship group, and gave a media interview.
Lord Price and his interlocutors unanimously agreed on the growing importance of the UK-Peru trade relationship and committed to working together to improve it further.
The International Trade Minister reaffirmed the Embassy's ambition to double UK-Peru trade by 2019 and offered to bring even more British goods, from solar energy technology, consulting services, and mining equipment, to UK expertise in staging the London 2012 Olympic Games to help Lima host the 2019 Pan American Games.
Peru-UK bilateral trade in goods alone was worth over £500 million (US$783 million) in the first 11 months of last year, up 44 percent from the same period in 2015.
The value of new opportunities for British businesses in mining alone is estimated at £300 million. Other areas, such as health, infrastructure, ports & railways and others, represent approximately £1 billion over the next five years.
Watch Lord Price talking to Gestion newspaper here
For more information on exporting to Peru, contact DIT.lima@fco.gov.uk
Published 27 January 2017