UK Parliament debates the Arms Trade Treaty
Foreign Office Minister for Counter Proliferation, Alistair Burt took part in a debate on the Arms Trade Treaty in the House of Commons on Thursday afternoon.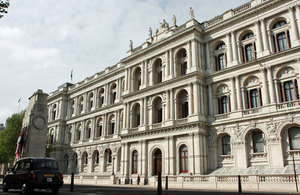 The debate focussed on the work of the UK towards securing a comprehensive, robust and effective Arms Trade Treaty.
Foreign Office Minister Alistair Burt responded to questions, and said:
"The timing of this debate is opportune, coming as it does at the mid-point of the highly significant negotiations that began in New York last week. It offers an opportunity to take stock of the negotiations and to set out the Government's priorities for and commitment to a robust and legally binding treaty. I briefed the all-party parliamentary groups on the United Nations, on landmines and unexploded weapons of conflict, and on weapons and protection of civilians at the end of April. I stressed that securing a positive outcome in July would not be easy, but that we would do everything within our power to secure a good result. Nothing that has happened since I attended the opening day of the conference has led me to change my view. This remains an incredibly complex negotiation, made more difficult by a hard core of countries that would like to derail the negotiations.
"No matter how committed we are to securing an arms trade treaty–I do not think anyone is in any doubt about that commitment–we cannot deliver it on our own. That is why we have put so much emphasis on working with our international partners, NGOs and representatives of the UK defence industry in the run-up to the conference. We have collaborated closely with the treaty's co-authors, the EU and the P5, and will continue to do so as the negotiations progress, to seek to achieve a successful conclusion.
"I do not want to indicate at this stage what the likely outcome will be, but I am on record as saying at one or two meetings that we will not sign an agreement that makes things weaker. There is no point in that, and there has to be a moment when we walk away, but I will not hide it from colleagues that the choice might end up being very difficult. We want to get enough in to make it worth while and we want enough people to sign to make it effective, but there will be some tough choices to make at the end. All I can say is that we will do our best to be as inclusive as possible when we get there. Then we will see. There will always be a tomorrow. That is important. Whether or not this is as successful as we want–it is highly unlikely to be written as we would want it–there will always be the opportunity of a further process."
Published 13 July 2012