World news story
UK Paralympic duo bring disability message to Moscow
British Summer Paralympians Gemma Collis and Craig McCann visited a Moscow school for disabled children.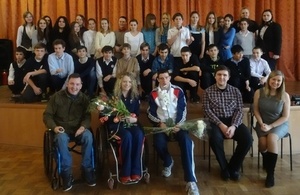 Gemma and Craig competed for TeamGB in wheelchair fencing at the London 2012 Paralympics, and were in Sochi last week as part of a British torch relay delegation sent from Stoke Mandeville, the British home of the Paralympic Games movement.
Yesterday's event, supported by the British Embassy Moscow and Russian disability group 'Perspektiva', was an opportunity for Craig and Gemma to speak to the children about active lifestyles and disability sport, and for the children to meet elite Paralympians. Gemma and Craig also met with participants from Perspektiva's Young Leaders Programme and compared their activities with their own athlete mentor roles in the UK.
The activities Gemma and Craig took part in during their Moscow visit, were part of the British Embassy's ongoing work in engaging on disability issues in Russia. The Winter Paralympic Games in Sochi offer a unique opportunity for raising the profile of disability issues. The UK experienced this first-hand during the London 2012 Paralympics, and the British government is continuing to build on the 2012 effect through our Paralympics legacy work.
Gemma's inspiring message to the school children was to never give up on your dreams.
Published 12 March 2014