World news story
UK Overseas Territories' Warship helps Turks and Caicos (TCI) hurricane preparations
The 'Queen's frigate' HMS Lancaster visited TCI from 25-28 June 2013.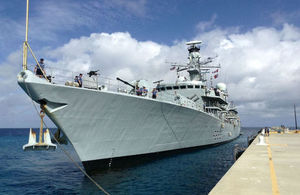 Lancaster is on standby to provide humanitarian support to the six UK Overseas Territories (OTs) in the Caribbean throughout the 2013 Atlantic Hurricane season.
She arrived in the Turks and Caicos Islands (TCI) direct from Cayman where she visited over the weekend, and has already visited Bermuda and Florida Keys too.
During her visit the 189 crew will meet senior TCI government figures and train with their disaster management and recovery personnel.
During her six month long tour of duty in the Caribbean HMS Lancaster will also work jointly with other navies and coastguards on counter narcotics operations in the region.
She is referred to as the Queen's frigate as the Sovereign has the honorary title of the Duke of Lancaster.
The 4,000 tonne UK warship began her six month deployment to the Caribbean on 28 May.
During her visit to TCI Lancaster's Captain, Commander Steve Moorhouse and his 185 crew will:
Be berthed at the cruise centre in Grand Turk for three days before spending time in Grace Bay on Friday

In Grand Turk, HMS Lancaster will meet with His Excellency the Governor, the Deputy Premier, Deputy Governor, the Premier's Permanent Secretary, the acting Permanent Secretary in the ministry of Government Support services, the deputy director of the Department of Disaster Management and the Commissioner of Police among others

The ship's crew will assist in the temporary relocation and installation of the TCI Emergency Operations Centre radio equipment to simulate how this would be done if their current centre ever went out of action during an emergency

A team of three ship's engineers will provide assistance to the Police Marine Unit

The ship will provide an aerial reconnaissance of TCI for the Acting Governor and senior disaster management staff

The Governor's Office staff and government disaster management staff received refresher training in the use of VHF radios during an emergency

The crew are also hoping to host a visit by Grand Turk school children, supported a community in action project and took on a Grand Turk select XI at football (winning 3-0).
Published 27 June 2013