News story
UK overseas intellectual property attaché network
Thinking of doing business in South East Asia, China, Brazil and India? Help and advice is available through our IP liaison officers (attaches).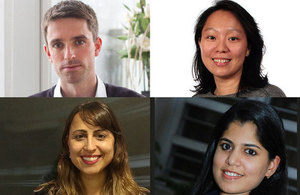 Also referred to as Intellectual Property (IP) attachés, the IP liaison officers work with local UK Department for International Trade (DIT) and Foreign and Commonwealth Office (FCO) leads to provide support for UK businesses seeking advice on local IP matters.
They also:
raise awareness of IP through business outreach. This includes briefing business delegations, joint webinars with DIT and local trade associations

liaise with host governments and stakeholders about local and international IP frameworks / environment
Contact details
Christabel Koh: South East Asia
Joined Intellectual Property Office (IPO): September 2013
Career history: Enjoyed several years covering international engagement at the Intellectual Property Office of Singapore (IPOS) and IP Academy Singapore.
Focus in SE Asia: Christabel plays an instrumental role in promoting and supporting British businesses in South East Asia. She represents a point of contact for one-to-one IP support to UK businesses; leads awareness-raising through business and stakeholder outreach events; and conducts policy dialogue with host governments across the region to discuss local and international IP frameworks and environments.
Contact details: email: Christabel.Koh2@fco.gov.uk; tel: +65 6424 4229; address: British High Commission Singapore, 100 Tanglin Road, Singapore 247919.
Tom Duke: China
Joined IPO: December 2011
Career history: Tom Duke was appointed the first UK IP attaché to China in December 2011. Prior to joining the British Embassy in Beijing, he was Director responsible for the IP Centre at the EU Chamber of Commerce in Seoul, South Korea. He speaks fluent Mandarin, and has been living and working in the region for nine years.
Focus in China: The Chinese IP framework is fast developing, and the UK is a key international partner. Tom, and his policy team in Beijing, provide direct support to UK companies with concerns across the IP spectrum, particularly in supporting enforcement outcomes. He also works closely with a number of Chinese government agencies on IP, to share UK expertise and best practice. This work is bolstered by several IPO visits to China each year.
Contact details: email: Tom.Duke2@fco.gov.uk ; tel: +86-10-5192-4495; address: British Embassy, 11 Guanghua Lu, Beijing 100200.
Angelica Garcia: Brazil
Joined IPO: August 2016
Career history: Lawyer with a LL.M in IP & International Trade from Queen Mary University, London. She was formerly Director of Marketing & Business Development for ACE Aceleratech start-up accelerator in Brazil and Latin America and worked on Deloitte's German-Brazilian Desk. Most recently she worked for the Department for International Trade (formerly UKTI) of the British Government.
Focus in Brazil: Assisting UK companies that have IP issues in Brazil and working closely with Government to ensure that there is a strong IP framework. This includes outreach with both officials and business, highlighting the benefits of a strong IP system. Specific areas of interest include addressing backlogs in patents and trade marks, Geographical Indications (GIs), pharmaceuticals and IP enforcement.
Contact details: email: angelica.garcia@fco.gov.uk; tel: +55 11 3094 2729; address: British Consulate General, Rua Ferreira de Araújo, 741, São Paulo, Brazil - 05428-002.
Anshika Jha: India
Joined IPO: May 2012
Career history: Anshika Jha joined the IP attaché network in May 2012 and is based in the British High Commission in New Delhi. She is a dual qualified lawyer – a solicitor in England and Wales and an advocate in India.
Focus in India: Having practiced law in India and worked at a leading law firm in London, she has developed a solid grasp of both Indian IP issues and a practical knowledge of UK companies' IP concerns.
Contact details: email: anshika.jha@fco.gov.uk; tel: +91 11 2419 2166; address: British High Commission, New Delhi, 110021.
Useful guides
Published 20 November 2014
Last updated 27 October 2016
+ full page history
New attaché Angelica Garcia added.
Temporary change to the attache for India.
First published.