World news story
UK offers to build smart cities together with India
The report analyses the strengths that UK companies have to offer India in delivering its ambitious smart cities programme.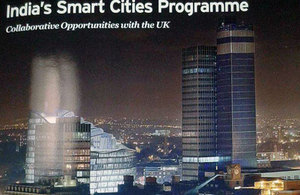 The Rt. Hon Lord Francis Maude of Horsham, Minister of State for Trade and Investment today launched a report that brought together the very best of what the UK has to offer in delivering smart cities, with an understanding of where it can best support India.
The report 'India's Smart Cities Programme – The UK offer to build together' was commissioned by UK Trade and Investment (UKTI) India from Ernst &Young to scope the potential opportunities for both UK and Indian companies vis-à-vis Indian Prime Minister Narendra Modi's ambition of building 100 smart cities in India.
Presenting the reporting to Union Minister of State for Commerce and Industry, Nirmala Sitharaman, Lord Maude said,
As India embarks on its ambition to build 100 smart cities, the UK hopes to be an invaluable partner. We look forward to sharing our expertise in building smart cities with India. We take this opportunity very seriously and this report by UKTI scopes the opportunities where Britain can best support India's aspirations.
The report analyses the strengths that UK companies have to offer India in delivering its ambitious smart cities programme.
The report says that, "India has an ambition to create 100 new smart cities, and the UK can help. "It goes on, "… UK companies need to demonstrate to India that they understand Indian needs and have strengths to offer, and present the opportunities clearly to Indian partners or the Indian authorities to get them interested. Based on an analysis of UK strengths against the current skills gap in Indian smart cities,… there are significant opportunities for UK companies to engage in the Indian Smart City market."
The report identifies several areas where the UK's expertise would be useful to India, including physical (infrastructure including mass transport, water, waste management, built environment), digital (ICT, data, software, analytics and smart metering), commercial (professional services, regulatory standards, financing and legal), and social (Municipal services, community-led designs and services, e-governance, healthcare), in line with the four pillars mentioned in the Government of India's draft framework for Smart Cities.
Further information:
GREAT for Collaboration is an ambitious an exciting new campaign to showcase India-UK business collaboration. The campaign has been launched as a direct response to the Indian Prime Minister Narendra Modi's call to the world to "Make in India. The campaign will celebrate and inspire new partnerships, and encourage greater awareness of the scale of the UK's commitment to India. The overall objective is to increase business between the two countries.
Stuart Adam, Head,
Press and Communications
British High Commission, Chanakyapuri
New Delhi 110021
Tel: 44192100; Fax: 24192411

Mail to: Jagori.Dhar
Follow us on Twitter, Facebook, Instagram, Flickr, Storify, Eventbrite, Blogs, Foursquare, Youtube, Vine, Periscope @UKinIndia, Snapchat @UKinIndia
Published 11 September 2015