World news story
UK-Odisha partnership on climate change
Supporting the state towards sustainable development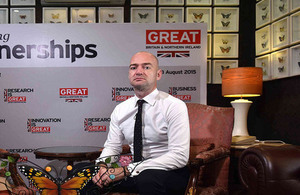 As part of the 'UK in Odisha,' a high level seminar on tackling climate change highlighted the UK's support to Odisha on this important area through implementing models of low-carbon and climate resilient development. It was organised under the Climate Change Innovation Programme (CCIP). It demonstrated the partnership between the Ministry of Environment, Forests and Climate Change, Government of India and the UK government Department for International Development (DFID).
The CCIP programme is active in six states in India including Odisha. It is strengthening India's resilience to climate change by integrating climate change risks and opportunities into planning and investment processes. Through this programme, Odisha will be able to build on existing strengths and capacities for effective planning and delivery in high priority areas which affect the state's climate vulnerability. It will also help the state attract public and private finance for climate compatible development. Through these activities, the CCIP programme will help improve the overall 'livability' of the state.
Scott Furssedonn-Wood, British Deputy High Commissioner said:
I am proud that the UK government has worked closely with Odisha on helping the state tackle climate change. Our partnership is supporting the state on low-carbon and climate resilient development which is helping the lives and livelihood of the people.
Phil Marker, the Regional Programme Manager, described the initial CCIP support areas to Odisha in flood planning, solid waste management and heat islands.
The discussions helped in establishing a roadmap to implement models of sustainable development in Odisha. Key priority areas for UK's support to state on climate vulnerability and energy access were also identified, which will help improve the quality of life of people.
CCIP support can help a large number of Odisha's citizens. Improved flood forecasting alone has the potential to help 2 million people in the state. Future areas for intervention may include water resources, agriculture diversification and climate smart urban drainage systems.
Further information:
CCIP is managed by Oxford Policy Management

CCIP is a partnership between the Indian and UK Governments and a Memorandum of Understanding was signed in May 2013

CCIP works with six India State Governments in Assam, Bihar, Chhattisgarh, Kerala, Maharashtra and Odisha.

the programme will provide funds and a flexible response to support governments and other stakeholders in the following kinds of action:

transforming systems of planning to delivering climate resilient initiatives
building the climate change knowledge of decision makers
supporting the design and delivery of climate resilience measures
promoting investments for climate compatible development.

The state of Odisha is prone to climate change impacts, such as floods, storm surges, cyclone related torrential downpours with evidence of higher intensity in recent times.

CCIP started in September 2014 and will run to 2019
Follow us on Twitter, Facebook, Instagram, Flickr, Storify, Eventbrite, Blogs, Foursquare, Youtube, Vine, Periscope @UKinIndia, Snapchat @UKinIndia
Published 27 August 2015