World news story
UK-Nigeria partnership on Aviation Security grows stronger
The British High Commission recently delivered enhanced training to aviation security staff and managers at Nnamdi Azikiwe International Airport (NAIA), Abuja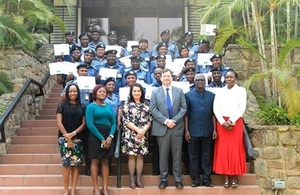 Maintaining and improving aviation security remains an important objective for both, the UK and Nigeria. Recent events continue to underline the need for international cooperation to tackle the threat of global terrorism. The British High Commission and the UK's Department for Transport are committed to working collaboratively with the Federal Ministry of Aviation to build capacity for the Federal Airports Authority of Nigeria (FAAN).
The British High Commission works closely with the UK's Department for Transport to help ensure that good security measures are applied overseas. We recently delivered enhanced training to aviation security staff and managers at Nnamdi Azikiwe International Airport (NAIA), Abuja. To mark this, we welcomed the FAAN delegation, led by Mrs. Henrietta Yakubu to a Certificate presentation ceremony by the High Commissioner, Paul Arkwright.
The British High Commission's Aviation Security lead for Nigeria, Janki Miles, has been working with colleagues at NAIA on a number of things – providing aviation security screening equipment and training, assessing the security of the airlines' operations to the UK and facilitating expert assessments on airport security.
We would like to thank the Nigerian aviation authorities for their continued efforts and their ongoing partnership with us; and look forward to doing more on this important agenda through 2016.
Published 5 February 2016