World news story
UK national statement at 69th Session of the World Health Assembly in Geneva
From:

Part of:

Published:

23 May 2016
Transforming our world - the 2030 Agenda for Sustainable Development.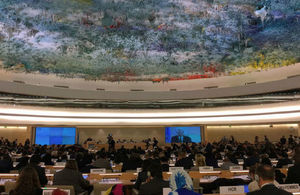 Director General, fellow Ministers and esteemed delegates, it is my pleasure to stand again at this lectern.
This session of the World Health Assembly, the first since the adoption of the 2030 Agenda for Sustainable Development, marks an important moment in global health. The new global goals are universal and indivisible, recognising that health and sustainable development go hand in hand. The UK has made bold commitments – including tackling preventable maternal and child deaths and ending female genital mutilation. We will work in partnership with others to promote healthier lives and well-being for all. We must leave no one behind.
WHO will be critical in the implementation of these goals. A stronger, reformed WHO that supports countries to build resilient health systems and responds swiftly to global health threats will be vital for addressing our most pressing challenges.
Last year, I stood here and asked you to rise to one of those challenges: antimicrobial resistance. Together we have made progress but our work is far from done. In fact this is not even the end of the beginning. The Independent Review on AMR estimates that by 2050 we will face up to 10 million additional deaths every year from drug resistance and an economic global cost of up to $100 trillion. These are breath-taking numbers and the impacts are felt right now. All too easily AMR can be pigeon-holed as a human or animal health issue. The UN General Assembly High Level Meeting is an unmissable opportunity to rally the wider UN system to tackle AMR with a one-health approach and we must be ambitious.
About 700,000 people die every year from drug-resistant strains of common bacterial infections, HIV, TB and malaria. For many countries, the hard won battle against these devastating diseases could be undone if we don't also tackle rising drug resistance.
In the UK, we are increasingly taking a risk reduction approach in our efforts to tackle another major challenge, dementia. More than 47 million people across the world are affected by dementia. There are almost 8 million new cases every year. I urge you to think what more you can do in your country. I support the call for a Global Plan of Action to be adopted at the World Health Assembly in 2017. This is an enormous and growing global challenge - we must keep our foot on the pedal.
WHO tells us that the tobacco epidemic is one of the biggest public health threats the world has ever faced, killing around 6 million people a year. The UK is committed to strengthening implementation of the Framework Convention on Tobacco Control around the world. We achieved a milestone in our fight against tobacco in the United Kingdom last week with the introduction of our tough new standardised packaging laws. The tobacco industry tried to stop the law in the Courts, but failed. I want to be clear - we should never allow the tobacco industry to dictate our policies or stand in the way of protecting public health.
Many public health issues affecting adults can be traced back to what happened in pregnancy and early childhood. Every nation should consider effective measures to intervene early to promote the life chances of all children. In the UK, we have one of the highest obesity rates in the world; one in three children leave primary school overweight or obese. We will be launching our comprehensive Childhood Obesity Strategy in the summer and the new UK soft drinks industry levy is the first bold step in protecting the health of our children. The UK will shortly publish our Life Chances Strategy, a comprehensive plan to fight disadvantage and extend opportunity. Unless we get it right early, we won't be able to make a real difference.
I'd like to close by paying tribute to Dr Margaret Chan's leadership here at the World Health Organisation in improving the health of millions of people. Achieving the sustainable development goals in 2030 means taking more of that action now.
Thank you.