UK Modern Garden Cities Exhibition in China
Sir Sebastian Wood, the British Ambassador opened the GREAT campaign-funded exhibition on 10 and 11 November in Chengdu, China.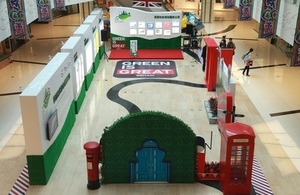 During the Ambassador's two day visit in Chengdu, he met Zhu Zhihong, the Executive Vice Mayor of Chengdu. Both agreed that Chengdu's rapid urbanisation is increasing demand for the services hat the UK excels at, including urban planning, architecture, and green building technology. The exhibition showcased some of the cities and companies which have done well in the UK in these areas.
From 10 to 14 November 2014, the British Consulate-General also led a group to Chengdu to present their experience of sustainable urbanisation. Apart from the exhibition, UK Trade and Investment (UKTI) put together a packed programme for the business delegation, including the Modern Garden Cities Forum, round-table discussion and lectures. Delegates had the opportunities to meet key urbanisation authorities, real estate developers, design institutes and trade associations. This provided British businesses with a good platform to showcase their range of services, expertise and experience.
He also witnessed a Memorandum of Understanding signing between UK Trade and Investment and Chengdu Tianfu New Zone Administration, and contract signing between UK and Chinese companies.
The Ambassador said:
I am delighted to be here in Chengdu to open this exciting and timely exhibition. The UK has a rich experience in sustainable town and city planning, and the current growth in population means that we are looking again at how to house people in liveable cities. The relevance of these lessons to Chengdu, which is growing at a phenomenal rate, is clear. I very much hope it will benefit Chengdu's own sustainable development.
Contact the UKTI team in China for more information and advice on opportunities for doing business in China.
Published 27 November 2014