UK Ministry of Defence delivers training in Vietnam
Military officers from Vietnam, Thailand, Malaysia and Brunei attended a training course in Exclusive Economic Zone Protection provided by UK Ministry of Defence.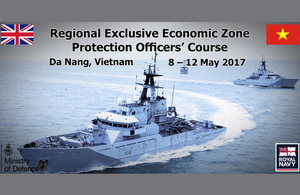 Sixteen military officers from the Navies, Coastguards, Border Guards and Air Forces of Vietnam, Thailand, Malaysia and Brunei came together to participate in an international training course in Exclusive Economic Zone (EEZ) Protection provided by the United Kingdom's Ministry of Defence in Da Nang from 8 to 12 May 2017.
The participants discussed such issues as: international maritime organisations and legislation; physical maritime threats and how to counter them; fishery and environmental protection; the global maritime distress and safety system; search and rescue and the agencies who conduct them; and disaster management.
Two officers - Lieutenant Commander Ted Bath and Lieutenant Commander Jack Kerr from the Royal Navy's Maritime Warfare School delivered the week-long course, which also included a presentation from Major General Bui Trung Dung, Deputy Commander-in-Chief of the Vietnam Coast Guard.
The UK's Defence Attaché to Vietnam, Group Captain David Houghton said:
This EEZ Protection Course was a great example of the benefits of collaborative training between the two Ministries of Defence of the UK and Vietnam. It allows our 2 countries to learn from each other and to share experiences with other regional partners. The training also marks a significant development in our bilateral training cooperation.
Published 18 May 2017