World news story
UK Minister visits Guatemala City's street kids and engages with the Government on child protection issues
The UK Minister of State for Latin America, Hugo Swire, met with the Guatemalan State Attorney today to learn about a new initiative aimed at strengthening Guatemala's child protection system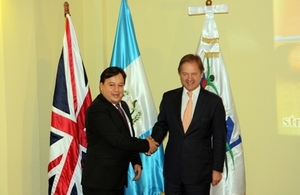 British NGO Street Kids Direct has been instrumental in developing a forum aimed at integrating the different institutions and agencies working on child protection issues in the country.
During the meeting, Mr. Swire encouraged the State Attorney to integrate this forum into policy development in this area and encouraged UK expertise exchange to help develop safeguards and protocols for keeping children safe.
They also touched upon the global efforts of the UK Government to tackle early and forced marriage and the British Embassy's support of legislative initiative 4746, aimed at raising the minimum marital age for girls.
Mr. Swire then travelled to "La Terminal" market place in Guatemala City to see the workings of the forum at first hand. The market is the largest of its kind in Central America and is home to thousands of street children. It also houses numerous criminal networks, including paedophile rings. The average life expectancy for a street living child there is thought to be just four years.
Published 25 June 2014