World news story
UK Minister talks open government, and boosts cooperation in creative arts education
Minister for the Cabinet Office, Mr Francis Maude visited Indonesia 18-19 February 2013.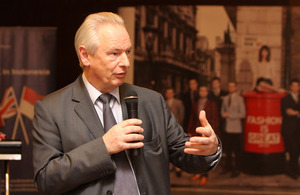 In his visit, he attends an Open Government Partnership meeting in Jakarta and to open a special event showcasing the work the UK and Indonesia are doing together in the field of fashion and education.
The Open Government Partnership is a global effort to make governments more transparent, effective and accountable - with institutions that empower citizens and are responsive to their aspirations. It was formally launched in September 2011 by eight founding governments, including the United Kingdom and Indonesia and now comprises 58 nations and nine leading civil society organisations from around the globe.
Mr Maude said:
Transparency is an idea whose time has come. Indonesia's leaders are supportive of the drive toward openness and transparency, including empowering citizens by encouraging the development of a strong civil society. Fifteen years ago, this would have been inconceivable.
Mr Maude also opened a special event celebrating the work the UK and Indonesia are doing together in the field of fashion and education. The event featured a discussion between fashion experts, a reception which brought together key people in the fashion and education industries, and a video from the British Fashion Council about the role of overseas designers in London Fashion Week.
Mr Maude said:
The innovative partnership between the UK and Indonesia in fashion led to an Memorandum of Understanding (MoU) on creative industries, which was signed during the State Visit of President Yudhoyono to the UK in October last year. Both countries agreed to explore ways to build human resource capacity as well as to develop jointly various programmes and training. These will be in creative fields such as the performing arts, animation, fashion, architecture, design, and cuisine. The first meeting of the resulting Joint Working Group will take place later this week.
Today we see from the significant number of London Fashion Week designers educated in the UK, that a British degree in the creative arts is a passport to the world of elite fashion and to global success. But we offer more: there are over 300 universities in the UK offering thousands of courses. Four of our universities are in the world's top ten.
Studying in the UK can be one of the most exciting experiences of your life as over a million foreign students currently in the UK can attest. Last year there was an increase of 16% in the number of Indonesian students studying in the UK, and we have already agreed a scheme whereby up to 150 Indonesians will pursue PhDs in the UK funded by the Ministry of Education and Culture and by UK universities.
The UK welcomes people of different faith and cultures, and we would like to see more Indonesians studying in the UK—we will welcome you with open arms.
Notes to editors
Published 19 February 2013