World news story
UK Minister leads discussion on Government transparency and reform agenda
On the third day of his visit to Pakistan, the UK's Minister for the Cabinet Office and Paymaster General, the Right Honourable Francis Maude MP met Pakistan's Minister of Planning, National Reforms and Development, Ahsan Iqbal.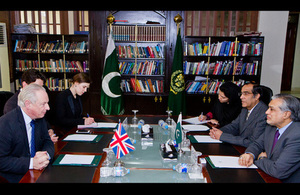 Mr. Maude also met the Chief of General Staff, Lt.General Ishfaq Nadeem Ahmad, Minister for Commerce, Khurram Dastgir Khan and the Minister for Finance, Ishaq Dar.
The Minister shared the British Government's experience on implementing Civil Service reform, which, in 2013/14 alone, has led to £14.3bn in efficiency savings in the UK. They also discussed improving digital service delivery and enhancing openness, transparency and accountability in the UK Civil Service.
Speaking in Islamabad, Mr. Maude said:
Both Britain and Pakistan face common challenges – tighter money, population changes and rising public expectations for high-quality services. As part of our long term economic plan the UK Government has saved taxpayers £14.3 billion last year alone, compared to spending in 2009-10.
We have got out of underused property and sold off excess publicly-owned land, releasing over 26 times the space of Buckingham Palace since the 2010 General Election. Our digital reforms are being adopted from Australia to the United States, and we want to partner with other countries so we can learn from one another and share best practice.
ENDS
Contact: Press Attaché, British High Commission, Islamabad; tel. 051 201 2000
Published 18 February 2015