World news story
UK Minister for Africa concludes visit to Namibia
UK Minister for Africa, James Duddridge, MP, was in Namibia for a day on Monday (06 June 2016).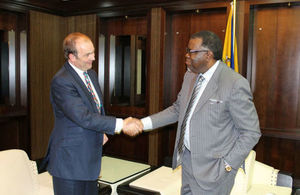 The visit focused on bolstering bilateral relations and expanding trade links with Namibia.
Mr Duddridge met HE President Hage Geingob, Prime Minister Right Hon. Saara Kuugongelwa-Amadhila, as well as Hon. Finance Minister Calle Schlettwein. He furthermore met with British businesses operating in Namibia as well as leaders of industry.
Mr. Duddridge was interested to hear plans for the development of Namibian ports and associated logistics. Mr. Duddridge highlighted the many investment opportunities in this sector. Mr Duddridge's discussions covered the need for a sound business environment in order to attract the investment needed for Namibia's planned infrastructure projects.
After his visit Mr Duddridge said:
"I am delighted to have once again come to Namibia. My last visit was 15 years ago when I worked in the Private Sector next door in Botswana. It has been a very successful visit. I am impressed by the developments in Windhoek, as well as by the Namibian Government's focus on economic growth and its war on poverty.
I look forward to fostering even greater economic ties, including through our commitment to support Namibia's development through Public-Private Partnerships."