World news story
UK Minister announces start of new premium visa services
On 8 May, Minister for Government Policy Oliver Letwin announced start of new premium UK visa services for Chinese business and tourists.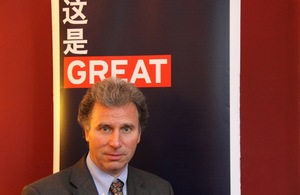 The new 'VIP Mobile Visa Service' and 'Passport Pass-Back' services have been launched to further support strong growth in Chinese visitors to the UK.
The UK's priority visa service has also been extended to 11 out of the 12 UK visa application centres and those applying to go to the UK as Tier 2 skilled migrants are now also eligible to use the priority service.
Mr Letwin has been in China this week for a series of meetings with representatives from the business, tourism and education sectors to gain feedback and discuss further opportunities to support the growing interest in the UK as a destination for tourism, business, investment and study.
96% of Chinese nationals who apply for a UK visa are successful. There has been a 75% increase in the number of Chinese applying for UK visas since 2009 and following on from the Olympics last year, 2013 is forecast to break all records again as the UK hopes to welcome over 350,000 Chinese people.
The new VIP mobile visa service will offer high value business customers the option of UK visa officers collecting their biometric data and visa applications at their place of work. The Passport Pass-Back service, available to eligible business visitors and group tourists, will allow customers to retain their passport, allowing them to travel or apply for another visa whilst their UK visa is being processed.
Mr Letwin said:
I'm delighted to be in China to see first-hand the UK visa operation and talk to customers about their needs. China is a priority market for the UK and we're committed to ensuring we're doing all we can to support growth and encourage visitors and investment from China.
The new VIP Mobile Visa Service and the Passport Pass-Back service are just two examples of the innovative services we provide customers and we will be using the feedback from this trip to further develop our visa offer.
Further information
the VIP Mobile Visa Service and Passport Passback service will both initially be available to business customers in Beijing and Shanghai and rolled out to other cities at a later date
in 2012 the Home Office received 296,795 visa applications from Chinese nationals worldwide
in 2012 96% of Chinese nationals who applied for a visa were successful
the UK visa service in China delivers well within its service standards, with 47% of non-settlement visas processed within 5 days and 97% within 15 days
the UK visa service operates 12 conveniently located visa applications in China, more than any other European country
Other recent enhancements for customers include:
a priority visa service which returns visa decisions within 5 working days
a simplified Approved Destination Status (ADS) process, including shortened on-line application forms and streamlined requirements
launch of new step-by-step Chinese language visa guides for Business Visitors, ADS group tourists and Independent travellers
the establishment of a Business Network in China with dedicated UK visa staff to assist businesses with their visa requirements
Published 8 May 2013