World news story
UK military personnel race towards victory at US Marine Corps Marathon
Disabled and able-bodied British military personnel will compete in the US Marine Corps Marathon in Washington, DC.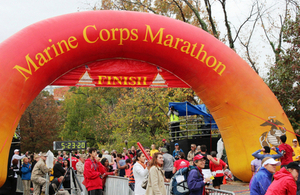 Soldiers from the British Army will be running alongside members of the AFF Team SideXSide. This team includes Captain Luke Sinnott, who was injured by an IED blast on November 20, 2010 while commanding a Counter-IED team in Afghanistan.
Captain Sinnott, is a bi-lateral above the knee amputee. Since his injury, Luke has been active with the Para Olympic Team, raising the Union flag at the London Paralympic Games and sailing for team Great Britain. For the Marine Corps Marathon, he will be riding a Berkel bike which combines arm power with prosthetic leg power.
TEAM Medics is made up of front line doctor and nursing personnel who serve or have served at the front end of Trauma Emergency at Camp Bastion, Afghanistan. Corporal Julie Donovan, who has served in the British Army for 10 years and has served in Iraq and Afghanistan, will be part of TEAM Medics.
She said, "Completing a marathon would be an amazing achievement for those who have suffered injuries whilst on tour and I would greatly appreciate the opportunity to run alongside them."
The UK's Surgeon General, Air Marshal, Paul Evans, an athlete himself, will be in attendance to cheer on the UK participants. Of the British participation, he said:
This annual marathon is much more than just a race to some; it gives participants a chance to accomplish something significant. Some are running to pay tribute to a servicemen or women serving or for one who has fallen in combat. Others demonstrate defiance in the face of illness or those who use the 26.2 miles as a tool to enhance their lifestyle and physical fitness. I look forward to cheering on our British personnel as they cross the finish line alongside their US counterparts.
The teams are supported by the Allied Forces Foundation, a British-American foundation dedicated to supporting soldiers in both countries. The Foundation supported teams in the past three Marine Corps Marathons, fielding a growing number of runners each year.
President & CEO of Allied Forces Foundation, Stephen Cain said:
Our mission is to raise funds for Allied comrades wounded in these conflicts and to raise awareness of the ongoing challenges faced by injured soldiers and their families. We look forward to seeing the team's race alongside their US counterparts as they cross the finish line.
Published 25 October 2013