World news story
UK-Mexico bilateral collaboration
Minister Lucy Neville-Rolfe shares her insights on the bilateral relation between the UK and Mexico.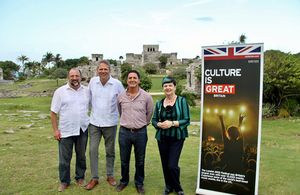 I am delighted to have visited Mexico during such a prosperous time of collaboration between our two nations. The UK prizes its long-term relationship with Mexico, which underpinned by numerous commercial, cultural and technological ties, has proven to be vastly beneficial for both our countries.
Last year we celebrated a new era in UK-Mexico relations through the 2015 Year of the Mexico in the UK and the UK in Mexico. UKMX2015 brought an exciting programme of artistic and creative events throughout the year showcasing the best of our culture in each others' countries.
More than 1.5 million people in Mexico experienced some of Britain's contemporary culture. At the same time wonderful and diverse Mexican culture was brought to all areas of the UK. We shared experiences with each other from to Shakespeare in Guadalajara and James Bond in Mexico City, to Lucha Libre shows in London, Day of the Dead celebrations in Southampton and a Mayan Exhibition in Liverpool.
In fact, there has never been a better time in the UK-Mexico relationship, which is why I am delighted to visit Cancun this week. In recent years the former Prime Minister David Cameron and HRH The Prince of Wales visited to help cultivate this relationship and grow trade links. Currently, the United Kingdom is Mexico's 7th-largest global investor, and in 2014 trade between the UK and Mexico was worth USD 32 billion.
As part of my visit, I am due to address the OECD (Organisation for Economic Co-Operation and Development) Conference, which will focus on the digital economy, growth and social prosperity. The UK is playing a leading role in the digital revolution, pioneering digital transformation within government, public services and business. Our Digital Strategy, due to be published shortly, will set out our clear ambition for the UK's digital future. With the digital agenda rapidly growing, not only within governments, but within the world of business and society at large, this visit is a fantastic way to hear from colleagues in Mexico and the OECD about the challenges and opportunities we all face as we step further into a digital world.
There have also never been better people to people links between the UK and Mexico; in 2015 more than 100,000 Mexican tourists visited the UK and almost 530,000 British tourists visited Mexico. The UK and Mexico are two of the most visited countries in the world, and in recognition of this in 2015 Mexico hosted the first UK-Mexico Tourism Seminar, which we look forward to hosting in the UK this year. We would like to invite more Mexicans to experience Britain's unique combination of heritage buildings, modern and vibrant cultural events and multicultural cities.
Beyond London is a breathtaking variety of countryside, from rugged mountains, deep forests and tranquil waterways to stunning beaches, cliffs and coastal paths, all waiting to be explored.
I am looking forward to building on the legacy of UKMX2015 to continue to deepen the close ties which already exist between our two countries. I welcome the fact that more and more people are choosing to live, study, work in or visit each others' countries – or just enjoy the best that our cultures have to offer.
Published 20 July 2016