News story
UK-Mexican deals announced as Prime Minister meets Mexican leader
The Prime Minister is in Mexico City accompanied by Trade & Investment Minister Lord Green and a business delegation of over 25 firms, institutions…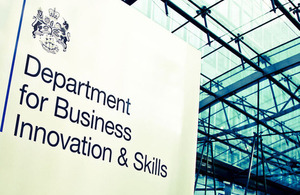 The Prime Minister is in Mexico City accompanied by Trade & Investment Minister Lord Green and a business delegation of over 25 firms, institutions and universities.
London-based firm Longshot is working with Mexican company Kidzania to create the UK's first large-scale, education-based theme park for children, and said today that it plans to employ 500 people in the first year of operation. This follows on from the signing of a licence agreement in February. Kidzania runs an international chain of "edutainment" centres where children from four to twelve years old can role play at being adults.

Gruma Maseca has announced that it will invest a further £42 million expanding its tortilla-manufacturing facility in Coventry, creating 120 jobs.

Mexican reinsurance broker Reasinter will become the first such Mexican firm to open an office in London. The office will employ between five and ten people.

During this visit, Midlands engineering firm JJ Churchill signed a £23 million, ten-year deal with The Offshore Group to manufacture gas-turbine components in Guaymas, Sonora state. This facility is the company's first overseas manufacturing venture.

London-based Penspen, which supplies engineering and management services to the oil and gas industry, has signed a two-year contract worth $1.2 million to develop operational policies and procedures for Mexican state-owned oil company PEMEX. Penspen also said that it would invest £625,000 in new offices in Mexico City. The office will be Penspen's third location in Mexico.

Antler Luggage, a prestigious firm with a 98-year history of making luggage has signed an exclusivity agreement with a Mexican distributor, Distribuidora Alef, S.A. de C.V. The first representation of the brand will be in Mexico's leading department store, Liverpool. The deal with Liverpool for Mexico is exclusive for the first year.

Wolverhampton-based TRAC Group, an industrial design and precision manufacturer, that already has a presence in Mexico, announced plans to invest a further £930,000 in 2012 as a part of a five-year growth plan.

London-based healthcare firm Bupa will open two offices in Merida and Tijuana in 2012. This will be in addition to offices opened in Monterrey, Puebla, Leon and Guadalajara in 2011. Bupa also plans to open three modules in prominent hospitals in the country to broaden its reach amongst current and potential members and to provide improved direct service to its customers.

The InterContinental Hotel Group is expanding their businesses in Mexico. InterContinental Hotel Group, which has its global headquarters in Buckinghamshire, announced today that it expects to open five new hotels in Mexico by the end of 2012, with 40 further hotels to open by 2015.
Notes to editors:
UK Trade & Investment (UKTI) is the Government Department that helps UK-based companies succeed in the global economy. We also help overseas companies bring their high quality investment to the UK's economy - acknowledged as Europe's best place from which to succeed in global business. UKTI offers expertise and contacts through its extensive network of specialists in the UK, and in British embassies and other diplomatic offices around the world. We provide companies with the tools they require to be competitive on the world stage. For more information on UKTI, visit www.ukti.gov.uk or telephone +44 (0)207 215 8000. For latest press releases, visit the online newsroom at www.ukti.gov.uk/media. You can also keep in touch with developments at UKTI through www.blog.ukti.gov.uk, www.twitter.com/ukti and www.flickr.com/photos/tags/ukti.
Notes to Editors
Contact Information
Name BIS Press Office Job Title
Division Department for Business, Innovation & Skills Phone
Fax
Mobile
Email bispress.releases@bis.gsi.gov.uk
Name Michael Gibbs Job Title
Division Department for Business, Innovation and Skills Phone 020 7215 1635 Fax
Mobile
Published 20 June 2012