Press release
UK matches Red Nose Day funds raised by UK schools
The UK will match up to £10 million raised by school children to help Comic Relief transform the lives of children.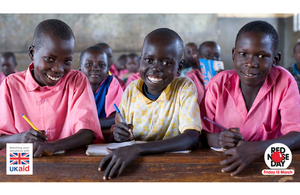 The UK will match up to £10 million of funds raised by UK school children this Red Nose Day to help Comic Relief transform the lives of children in some of the poorest parts of sub-Saharan Africa, International Development Secretary Justine Greening announced.
Comic Relief has set schoolchildren across the UK a spy-themed secret mission to help get 300,000 children into school and learning in sub-Saharan Africa.
Operation Double Your Money sees schoolchildren becoming 'double agents, doubling results'. All funds students raise will be matched pound for pound by the UK Government to help Comic Relief provide twice as many books, uniforms, clean water, wheelchairs and other essential support.
Justine Greening said:
Red Nose Day 2015 sees school pupils from around the UK dressing up, baking, participating in danceathons and sponsored silences to raise money for children who are denied the chance to go to school.

In recognition of these impressive efforts, we will match money raised to ensure that hundreds of thousands of children in sub-Saharan Africa can receive a quality education and ultimately take control of their own lives.
Operation Double Your Money will particularly target marginalised and excluded children who are locked out of the chance to attend school. This might be because their families cannot afford to send them, they live in remote areas, their schools are not accessible to children with disabilities or, as girls, they face school-based sexual violence or are pushed into early marriage.
Funds raised by UK schoolchildren will help to:
fund civil society projects to work with local communities, teachers, school governing bodies and systems to better support marginalised children
train local community teachers to provide schooling in rural areas
provide resource centres to help education officials build the skills and tools needed in schools to support disabled children
train parent teacher associations and school governing bodies on how to prevent sexual violence, as well as providing counselling services
work with communities and wider school systems to raise awareness and tackle the barriers that prevent children from accessing education.
Notes to editors
In sub-Saharan Africa, over half of all children are not learning basic core skills in literacy and numeracy as highlighted in UNESCO's 11th 'Education for All' Global Monitoring Report.
According to UNICEFs Fixing the Broken Promise of Education for All, sub-Saharan Africa now accounts for 57 per cent of all out-of-school children of primary school age, rising from just over 44 per cent in 2000 (UNICEF).
General media queries
Follow the DFID Media office on Twitter - @DFID_Press
Published 13 March 2015