World news story
UK marks World Humanitarian Day by preparing to help flood affected families
UK Aid has helped over five million people in Pakistan affected by natural disasters.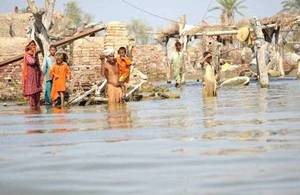 The UK has stepped up its humanitarian response following the heavy monsoon rains, as it pays tribute to those giving humanitarian assistance around Pakistan on World Humanitarian Day.
UK Aid has given humanitarian assistance to over five million people in Pakistan following natural disasters and conflict, but with eight million people across Pakistan at risk of flooding each year, it continues to invest in innovative solutions to help victims of floods, other natural disasters and conflict.
In the last three years, the UK's Department for International Development (DFID) has designed and built - alongside the International Organization for Migration (IOM), and the non-governmental organizations ACTED and HANDS - 52,000 flood-resilient shelters, as well as energy efficient smokeless stoves and distributed low-cost solar lights, which have all gone to the victims of floods.
Since 2010, three major floods have hit Pakistan during the monsoon seasons. Recent flooding has killed 116 people in different areas of Pakistan and damaged 582 houses. In the coming days, if the situation further escalates then DFID and its partners have the capacity to scale up rapidly with further emergency stock.
On the occasion of World Humanitarian Day, Joanna Reid, Head of DFID Pakistan, said:
I am incredibly proud of the UK humanitarian assistance to Pakistan. Having helped five million victims of natural disasters and floods, we stand ready – working with other donors as well as NGOs, local authorities and local people – to respond quickly to the monsoon floods.

We are watching the flood situation in Pakistan closely. We have emergency relief ready for 9000 families, and are ready to step up our efforts even more if it is needed.

On World Humanitarian Day it is important to remember those working on the ground to help families and communities recovering from natural disasters and conflict. Too many people in Pakistan have been killed for trying to give people a future. As we get ready to help more people in Pakistan, I remember their bravery and important work on this day.
Contact
Press Attaché
British High Commission
Islamabad
Tel. 051 201 2000

Published 18 August 2016