News story
UK manufacturing on show
Business Minister Mark Prisk wants to attract new talent to the sector.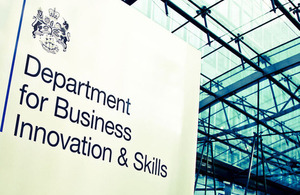 (Video courtesy of The Manufacturer)
An exhibition of the latest products from UK manufacturers is on display at BIS this month as part of a push to inspire the next generation of innovators.
Exhibiting products include the Union Jack-painted Backhoe Loader JCB which is parked in the forecourt of One Victoria Street. Craftsman Tools, Renishaw and Mazak UK are also part of the display.
The manufacturing sector is crucial to the UK's economic growth and accounts for 53 per cent of exports and 2.8 million jobs.
Business Minister Mark Prisk said:
"Britain is a world leader in manufacturing but if we are to inspire future generations we must do all we can to promote UK excellence.
"As a signal of our intent we have invited shining examples of British design, engineering and manufacture to showcase their products at the department.
"I am extremely grateful to JCB, Craftsman Tools, Renishaw and Mazak UK, four leading companies in the engineering supply chain, for contributing exhibits to this event."
Links
Published 6 September 2010