World news story
UK Low Carbon Business Ambassador visit to Taiwan
UK Low Carbon Business Ambassador visits Taiwan to share the UK's experience transitioning to a low carbon economy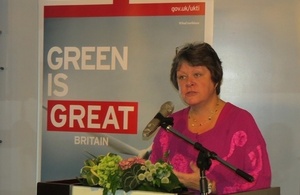 Professor Dame Julia King, UK Low Carbon Business Ambassador, visited Taiwan on 29 and 30 September to share the UK's experience transitioning to a low carbon economy.
On 29 Sept, Professor Dame Julia King attended the 2014 International Green Energy and Finance Forum organised by the Bureau of Energy of Ministry of Economic Affairs. In this forum, she introduced the Green Investment Bank and the UK's approach to develop a low carbon economy. She also shared how UK has developed towards a green financing economy through the panel discussion.
During her visit, Professor Dame Julia King meets Dr Kuo-yen Wei, Minister of Environmental Protection Administration (EPA) to share UK's excellence in low carbon policy and development, as well as to follow up on Wei's visit to the UK in early September. With an estimated investment of £1.2bn, Taiwan's EPA has selected four eco-city pilots to form demonstration of low-carbon living zones in Taiwan by 2020. As New Taipei City is one of four cities selected with four major targets of energy conservation, green transport, resources re-use and low carbon lifestyle, Professor Dame Julia King also meets Mr Shen-Hsien Chen, Deputy Mayor of New Taipei City to detail the UK's urban development experiences in promoting low carbon cities.
Professor Dame Julia King also delivers her insight entitled "Growing a Green Economy" at a special luncheon organised by the British Chamber of Commerce and European Chamber of Commerce in Taipei today. Speaking as UK Low Carbon Business Ambassador, she shares how the UK's investment in certain green sectors has made the UK a world leader in green technologies and policies.
She says: "UK's Green Investment Bank (GIB) is the first of its kind in the world with the vision of green and profitability. It is also a key driver to the UK's green economy. GIB has committed £1.3 billion of capital to mobilise a total of £4.8 billion projects, supporting UK's offshore wind, waste and bioenergy, and energy efficiency. It is crucial that government gives certainty to support development of green infrastructure."
The market value for the UK low carbon environmental goods and services sector is estimated at £116 billion for 2015/16, representing an annual growth rate of 3.9%. There are now over 900,000 green jobs in the UK. In the renewable energy sector alone, 30,000 new jobs have been announced since 2010.
The Green Investment Bank, since its establishment in October 2012, has backed 33 green infrastructure projects in the UK, committing more than £1.4billion of capital and mobilising a total of £4.9 billion from the private sector. The UK is now a world leader in low carbon policies. From 2014 to 2015, 88% of the UK's top 20 infrastructure projects are low carbon.
This is the first visit to Taiwan for Professor Dame Julia King.
Published 30 September 2014