World news story
UK lifestyle products promoted at business event in Austria
The GREAT Art of Living regional business event helps UK companies win business in Central, Eastern and Southern European markets.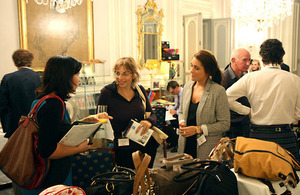 UK Trade & Investment in Austria invited UK companies from the lifestyle sector to present their products to agents and buyers from Emerging Europe markets at an event held in Vienna on 15th and 16th October 2013.
The event was a great success with £57,000 of direct sales achieved over the course of the two days and around £215,000 estimated value of likely new orders following the event. In addition, 6 distribution agreements were signed with others still under negotiation.
Opportunities in Emerging Europe's lifestyle sector
Almost 104 million people live in Central and Eastern Europe, a dynamic region within the single market of the European Union. Bilateral trade with this area was worth over £41 billion in 2011, with UK exports reaching £16 billion. Moreover, UK exports of goods and services to the region have more than doubled over the past 10 years.
According to our assessment, the average growth rate of retail sales up to 2016 will be about 6% per annum, which would mean a doubling of the market within the next 13 years. In addition, the constant rise of wages in these countries, the appetite for lifestyle products and luxury brands is expanding. More and more cities in the region become attractive shopping destinations, and British brands have a strong appeal to overseas consumers and some brands.
UKTI Vienna lifestyle event
The UKTI Austria lifestyle event took place in the Residence of the British Ambassador in Vienna and was organised in collaboration with UKTI staff from the surrounding region. It was the third version of this event reflecting the continued success of UK companies winning business in these markets.
21 UK companies took up the opportunity offered by this event showcasing a broad variety of goods for the lifestyle sector. Over 90 carefully selected national and international delegates visited the exhibition. This included 13 Commercial Officers from Central, Eastern and South-Eastern Europe who provided the exhibitors with valuable market information about their respective countries.
The lifestyle products showcased included:
handmade jewellery

traditional fine bone chine tableware

exclusive home fragrances

luxury leather bags

accessories

finest giftware
Both Austrian and international delegates, as well as UK exhibitors were pleased with the organisation and arrangements. Danny Carstairs from The Just Slate Company said he was, "pleasantly surprised by the quality of work done by the UKTI consultants in getting potential customers to Austria." Rachel Larcombe from Inspirational by Design Ltd said, "It met and exceeded my expectations as we have recovered new business plus lots of contracts and market information."
Contact Carina Gastelsberger for more information on opportunities for your products in Austria's lifestyle sector.
Find out more about opportunities in Emerging Europe.
Published 28 October 2013
Last updated 14 November 2013
+ show all updates
Added video link.
Updated URL link
First published.