UK legal services are key to boosting growth
Legal services across the UK hold the key to boosting global economic growth, Justice Secretary Chris Grayling declared. Launching an…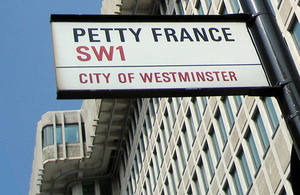 Legal services across the UK hold the key to boosting global economic growth, Justice Secretary Chris Grayling declared today.
Launching an update to the ambitious Plan for Growth, Mr Grayling reiterated the Government's commitment to supporting legal services at home and in international markets, saying that trade could not exist without a strong legal framework that businesses could have confidence in.
Speaking at international law firm Allen & Overy in the heart of the City, the Justice Secretary made clear that London is as much as legal centre as it is a financial one: with an unrivalled mix of judicial expertise in the fields of finance, business and property. As a consequence, doing business and resolving disputes in the UK is quicker and cheaper – saving businesses up to £1.4bn a year – but still results in cast-iron judgments that are respected around the world.
Secretary of State for Justice Chris Grayling said:
'British law has an unrivalled reputation in the world: a decision from a UK court carries a global guarantee of impartiality, integrity and enforceability.
'Our legal sector is also one of the most open in the world. And the benefits of removing barriers to foreign investment and business are clear, with UK legal exports almost quadrupling in little more than a decade and over 200 foreign law firms now operating in London.
'But, we want to go further. Promoting industry. Promoting growth. Promoting jobs. Encouraging international businesses to come to the UK to have contracts written and disputes resolved; cementing Britain's position as a global centre of legal excellence and removing barriers to UK law firms operating overseas.
'Above all, as this action plan and the last year have shown, we are determined to help British law firms and barristers compete in the global race and develop a presence that is equal to their world class reputation.'
The Justice Secretary also outlined that making the UK the destination and partner of choice for international legal services, and countries opening their legal sectors to foreign law firms brought mutual benefits. For instance, a fully liberalised Indian legal market could double its value to the India economy, as well as providing opportunities for British business.
Like judgments from UK courts, qualifications obtained in the UK are internationally recognised and valued. UK educational institutions specialise in a variety of cutting edge areas; such as law and IT, covering fields of privacy, digital rights management, cyber crime and e-commerce.
Chris Cummings, Chief Executive of TheCityUK commented:
'We have been working with the Ministry of Justice to promote the UK's legal services sector on the international stage since May 2011.
'The joint efforts following from the Plan for Growth have so far culminated in a variety of activities, showcasing the strengths of the UK's legal services in Russia, India, Singapore, China, South Korea and Turkey. The Unlocking Disputes campaign is also focusing on promoting London's role as a global centre of dispute resolution expertise in jurisdictions ranging from Brazil to Vietnam. With the renewed action plan, we expect increased recognition of the excellence of our legal sector, and of the UK as an attractive place to do business.
'English law, like the English language, is commonly used in global commerce and international dispute resolution and London has long been recognised as a primary centre for international and commercial litigation and arbitration. Today, companies are twice as likely to choose English law over other governing laws for arbitration. In addition, the UK allows virtually unrestricted access for foreign law firms. There are over 200 foreign law firms in the UK and many of these firms derive a large proportion of their overall turnover from business conducted in London.'
Notes to editors
Read the document 'UK Legal Services on the International Stage: Underpinning growth and stability'

The Justice Secretary is speaking at the UK Legal Services Plan for Growth event – 6pm on Thursday 14 March 2013 at Allen & Overy,1 Bishops Square, London E1 6AD. Media wishing to attend the event should contact Hugo Minchin at Linstock Communications on 020 7089 2090.
For further information please contact the Ministry of Justice Press Office on 020 3334 3536.
Published 14 March 2013