Press release
UK leads the way to eradicating female genital mutilation
Tough new laws to tackle the harmful and unacceptable practice of female genital mutilation (FGM) took a crucial step closer to becoming law.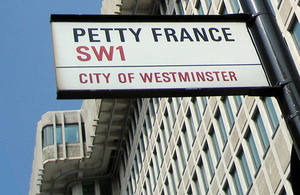 The Serious Crime Bill passed the House of Commons Committee stage, with a number of new measures which will do more to protect victims, and ensure that those who either carry out female genital mutilation (FGM) or fail to protect girls from the risk of mutilation will face time behind bars.
Justice Minister Mike Penning said:
We are committed to tackling and preventing the harmful and unacceptable practice of FGM.

This is a deplorable crime that we know goes on in some of our communities, but one for which there has not been a conviction to date. Those who commit this heinous crime should not be able to escape justice, while their victims are left with pain and suffering for a lifetime.

This is why we are strengthening the law, protecting those at risk and making it clear that those responsible will face the full brunt of the law.
The law will be extended so that a non-UK national who is 'habitually resident' in the UK and commits such an offence abroad can now face a maximum penalty of 14 years imprisonment. It will also be an offence to assist a non-UK resident to carry out FGM overseas on a girl who is habitually, rather than only permanently, resident in the UK. This follows a number of cases where victims were unable to get justice as FGM was committed by those not permanently residing in the UK.
Civil protection orders will also be introduced to protect potential victims of the crime. This will mean that the victims, potential victims or any relevant third parties, which could include teachers, carers, social workers, local authorities or friends, who believe there is a real risk of FGM taking place, can apply to the court for an order. The order could include, for example, a requirement for the removal of a passport to prevent a girl being taken abroad for FGM. Failure to comply with an order could result in up to five years behind bars.
Together with this a new offence is being created to prosecute parents, or those responsible for caring for a child, who fail to protect young girls from being subjected to this painful ordeal. Anyone convicted can now face imprisonment for up to seven years.
The government is already supporting and funding wide-ranging work to tackle this issue - such as community engagement work, raising awareness of FGM and providing training for frontline professionals.
Notes to editors
FGM is illegal in this country and has been a specific criminal offence since 1985. The changes being made through the Serious Crime Bill will amend the Female Genital Mutilation Act 2003.

A person found guilty of FGM faces a maximum penalty of 14 years imprisonment - this was increased from the original maximum penalty of five years imprisonment reflecting the seriousness of the offence.

A study published by City University and Equality Now in July 2014 estimates that over 100,000 women in England and Wales are living with the consequences of FGM and approximately 60,000 girls aged 0-14 were born in England and Wales to mothers who had undergone FGM.

The age at which girls undergo FGM varies enormously according to the community. FGM is predominantly practised in Sub-Saharan and North-East African communities (eg Somalian, Sudanese), and to a lesser extent within Asian and Middle-Eastern communities. The procedure may be carried out when the girl is newborn, during childhood or adolescence, just before marriage or during the first pregnancy. However, the majority of cases of FGM are thought to take place between the ages of 5 and 8.
Published 21 January 2015