UK "leads the way" in donations to Pakistan: Deputy Prime Minister
The UK public has led the way with its generous donations following the Pakistan floods, Deputy Prime Minister Nick Clegg has said.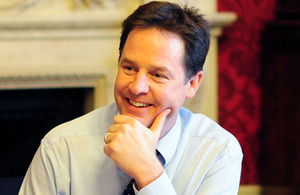 Mr Clegg visited the offices of the Disasters Emergency Committee (DEC) in London today with International Development Secretary Andrew Mitchell and Cabinet Office minister Baroness Warsi, who have both recently visited Pakistan to see how UK aid is helping those affected by flooding.
DEC's appeal has already raised £35 million in donations from the public and the Government has committed more than £60 million of aid.
The extra money pledged by ministers last week will be targeted mainly at the Punjab and Sindh provinces in the south of country. Support will focus on five key areas: shelter, food, clean water, healthcare and longer-term help for people rebuild their lives.
The Deputy PM also confirmed UK-made pre-fabricated road bridges will be sent to the country and more RAF flights carrying humanitarian aid will fly to Pakistan later this week. The first flight will carry 3,000 urgently-needed shelter kits which will help 15,000 people.
Mr Clegg said:
The floods in Pakistan have been an almost unimaginable human catastrophe. People across Britain have led the way in their generosity to bring much needed help to those affected by this terrible tragedy. Britain will stand by Pakistan in its hour of need.
The Deputy PM encouraged members of the public to continue to donate to the DEC appeal.
Earlier today he chaired a meeting of the National Security Council at Number 10 where ministers discussed the situation in Pakistan.
Published 25 August 2010