World news story
UK with Tunisian Association of Public Auditors launched a Performance Auditing project
One of the most important demands of the Tunisian revolution of 2011 was an end to corruption and opaque spending practices by the government in Tunisia. The UK has engaged in a number of ways to share our own experiences on this important issue with our Tunisian counterparts.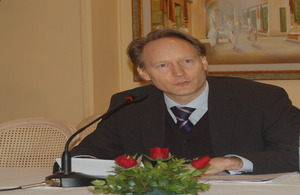 On 14 March, UK Ambassador to Tunisia Chris O'Connor launched a project in partnership with the Tunisian Association of Public Auditors to address questions related to maximising value for money in public expenditure and strengthening the institutions responsible for auditing public funds. In his opening address, the Ambassador highlighted the importance of proper financial control and full transparency and accountability to the public. At the opening of the event, Mrs. Samiha Selmani, president of the Tunisian Association of Public Auditors highlighted the parallel challenge of meeting growing demand for quality public services while minimising costs.
Participants at the event came from a number of Tunisian public bodies responsible for audit functions, as well as judges from the Court of Accounts and students from the national School of Public Administration. They had the opportunity to hear in detail the experience of the UK's National Audit Office (NAO), a body independent of Government but accountable to the UK Parliament.
Speaking on behalf of the NAO, public spending expert Richard Wade explained the role of the NAO and explored a wide range of issues relating to Value for Money.
Further information
Contact the Arab Partnership team
Stay informed by liking our Facebook page and/or following us on Twitter.
Published 14 March 2012