World news story
UK Justice Minister Shailesh Vara MP visited South Africa
To improve bilateral cooperation on legal matters & building relationships between UK government and UK legal practitioners in South Africa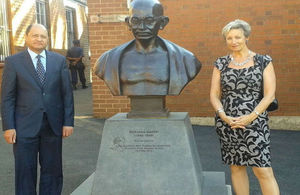 Minister of Justice visits South Africa
UK Justice Minister Shailesh Vara MP visited South Africa between 4 and 5 May.
During his visit, Minister Vara met with various interlocutors, including Chief Justice Mogoeng Mogoeng, co-chairs of the SA Law Society and representatives of the private and public legal sector. Chief Justice Mogoeng welcomed the visit and was complimentary of the bilateral relationship between the UK and South Africa.
Minister Vara's visit focused on improving bilateral cooperation on legal matters and building relationships between the UK government and UK legal practitioners based in South Africa, as well as gaining an understanding of opportunities to further progress for UK legal business development in South Africa.
Speaking about his visit in Pretoria, Minister Vara said: "The UK's legal expertise is based on our long history of freedom and justice, with a liberalised innovative legal market that is replicated around the world. We are proud that we share these common law traditions and principles with South Africa".
Minister Vara also promoted and spoke about the upcoming Global Law Summit to be hosted next year in London saying:
"It intends to celebrate the UK's legal heritage and will be an excellent opportunity for the international legal world to come together to discuss how law underpins global business and economic development".
Delegates from across the world, including South Africa, are expected to attend the summit in February 2015 which will celebrate 800 years of the Magna Carta, a tradition that still provides the foundation for the best commercial and legal environment for business to flourish.
Published 6 May 2014