World news story
UK joins The Trifactory's "ItsWorthATri" Sports campaign for Education
The TRIFACTORY donates 20,000 to the Noha Abu Samra foundation to refurbish, renovate schools for underprivileged children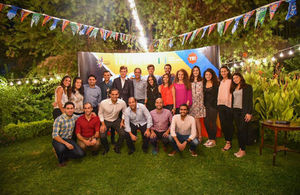 Tuesday 20 June, The British Embassy in Cairo celebrated The Trifactory's annual Ramadan running campaign "ITSWORTHATRI". The month-long challenge is a chance for every Egyptian and those further afield to give back to the community and stay active at the same time. For every kilometre run for ItsWorthATri, The TriFactory donated 1 Egyptian pound to the Noha Abou Samra Education Fund, the official charity partner of the campaign.
270 people took part in the campaign, mainly from Egypt but with participants in Dubai, London, Rome and New York, running a total of 18,500 kilometres. On average each participant ran 70KM over the course of the month, raising EGP 20,000 for charity.
The campaign was supported by the British Embassy's Inspire Egypt initiative, which highlighted the efforts of the inspiring athletes who took to the track and streets to run as much as possible for the Noha Abou Samra Education Fund,. A team from the Embassy also took part in the challenge, join The TriFactory weekly runs in Zamalek and Maadi. The Fund, in collaboration with Waslet Kheir, works to improve the quality of education and teaching in Egypt. Last year, the funds raised from the ItsWorthATri campaign went towards refurbishing a school for underprivileged kids in Cairo.
British Ambassador John Casson said:
The aim of Inspire Egypt is to support and celebrate home-grown Egyptian change makers making a real difference and inspiring others, and the TriFactory's ITSWORTHATRI campaign kills two birds with one stone. Today we are not only supporting inspiring amateur athletes getting fit, but also raising money for a great cause – education.
Due to the efforts of over 270 runners, including some of our own Embassy staff, the TriFactory have been able to donate EGP20, 000 to a charity that helps renovate schools for the underprivileged and provide them with teaching material which is exactly what we need more of to make Egypt flourish. My wish is that by 2050 the 150m Egyptians predicted to be living in this country will be provided with world-class education that is viewed as a right rather than a privilege, because I believe that this is the first step towards a developed country, a strong economy and unlimited opportunities.
Ambassador John Casson handed out trophies to the top three male and top three female runners, as well as the top three teams. Mohamed Farghaly was named the top runner after running 491kms while the top female runner Farah Channa ran 348.83kms. CRCaptains came first in the team category with 2613.66 kms.
Published 22 June 2017