Press release
UK helps business to invest in the developing world
Britain pledged to unlock the economic and creative power of the private sector to reduce barriers to investment, increase jobs and open up new markets in the world's poorest countries at the World Bank Annual Meetings.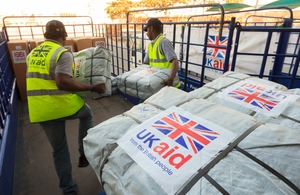 Marking Economic Development day alongside World Bank President Jim Yong Kim in Washington, International Development Secretary Justine Greening set out how the UK is helping business to invest in the fast growing frontier markets of developing countries.
Justine Greening said: "Africa and South Asia have the potential to produce flourishing businesses which can yield jobs and growth, giving people the chance to improve their own livelihoods. This needs to be our focus if we are to end poverty for good.
"The UK is helping businesses recognise opportunities in the developing world and making it easier and safer for them to invest.
"Encouraging economic development also strengthens the world economy; building new markets and helping those reliant on aid today to become our key trading partners in the future."
Ms Greening unveiled two new UK Government programmes to help business bring vital investment, innovation and jobs to developing countries and ending dependency on aid for good.
An innovative £18 million programme will help entrepreneurs in developing countries fast track early stage business ventures which give girls the chance to escape poverty through work and education.
Successful grantees will receive financial support, access to world-class mentors and leading experts in business creation, design, marketing, legal support and finance to help build and grow their businesses.
The programme, in partnership with the Nike Foundation and USAID, will let businesses reach 200,000 girls living in poverty with products and services that help them to learn, earn and save – maximising their economic power.
Justine Greening said: "Giving girls and women the chance to improve their own livelihoods is crucial to end poverty for good. If girls are locked out of education or work or face violence their potential goes unfulfilled.
"By unleashing the economic power of girls, we can stop their children falling into poverty. Businesses have a key role to play by using their skills and expertise to provide vital products and services which are key to building prosperous societies."
Separately, a business volunteering hub, funded by the UK, will enable professionals to share their skills and expertise and help developing countries foster economies where enterprise can thrive and men and women can provide for their families through work.
Professionals from around the world can apply for placements use their skills in areas such as IT, finance, business development and marketing in developing countries.
The volunteering placements will focus on improving the lives of people in the developing world by using business skills to strengthen basic services and boost living standards, particularly those of women and young people.
The hub, set to launch in early 2015, will be run by Voluntary Service Overseas (VSO) and offer placements ranging from a few weeks to up to three months.
Announcing the new volunteering hub, Justine Greening said: "Businesses have a hugely important role to play by sharing their skills and expertise. Britain alone has many success stories to share.
"I hope as many professionals as possible take up this challenge to create a better future for people living in poverty and showcase the immense talent we have both here in the UK and elsewhere."
Both programmes are examples of Department for International Development's work with businesses to bolster the world's frontier markets in developing countries. The aim is to enable people in these countries pull themselves out of poverty for good and strengthen these economies so that they become the major markets and trading partners of tomorrow.
Notes to editors
More information on the new DFID SPRING programme is available at https://www.gov.uk/government/news/uk-invites-entrepreneurs-to-unlock-economic-power-of-girls-in-developing-world

Please contact DFID's 24 hour press office on +4420 7023 0600 with further questions.
Published 9 October 2014