Press release
UK invests £88 million in world's largest ever optical telescope
Government confirms long-term investment in the European Extremely Large Telescope (E-ELT) to be built in Chile.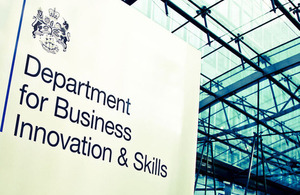 The UK research base and industry will be playing a leading role in one of the biggest global science collaborations in history, after the government confirmed long-term investment in the European Extremely Large Telescope (E-ELT) to be built in Chile.
The E-ELT will make huge strides toward our understanding of the Universe, the effects of dark matter and energy and planets outside of the solar system. Its 39 metres in diameter mirror will collect 15 times more light than any existing telescope and it will produce images 16 times sharper than the Hubble space-based telescope.
The £88 million investment will ensure UK scientists and engineers are heavily involved in the construction and operation of the telescope and its instruments, set to be the most advanced of its kind. UK industry has already won £9 million worth of contracts, and that figure is predicted to increase as much as ten fold before 2023 when construction is expected to be completed.
Minister for Universities and Science David Willetts said:
This significant investment reaffirms the government's commitment to cutting edge science. It will ensure the UK plays a leading role in a groundbreaking international project and our world-class research base has access to the latest equipment.
Not only will this new telescope considerably increase knowledge of the universe, its construction will drive growth and innovation for UK industry. This is why space is one of our eight great technologies.
To top it off, the advances in technology that will result from this hugely challenging project will be a real asset to the UK and have knock-on effects for other sectors and areas of research.
In addition to significantly enhanced worldwide scientific knowledge, the E-ELT will benefit the UK in other ways. Technology developed for astronomy is already being applied across many sectors, including extending the life of artificial knee joints, diagnosing eye diseases, improving the performance of industrial lasers and laser fusion research.
Professor Colin Cunningham, from the Science and Technology Facilities Council's (STFC) UK Astronomy Technology Centre (UK ATC) who is leader of the UK E-ELT Project Office said:
UK teams of scientists and engineers have built strong positions over the last few years to enable them to make major contributions to the instruments, telescope engineering and optical systems. We expect to lead one of the 'first light' instruments and look forward to UK industry making competitive bids for contracts to supply optical devices, detectors, software and engineering services for this challenging project. This will culminate in UK astronomers having the opportunity to make breakthrough discoveries in exoplanet research and in understanding the origins and evolution of galaxies.
The UK has already played a major part in the E-ELT project, leading the development of the science case, developing instrument designs, optical technologies and telescope systems, and developing manufacturing processes. The UK instrument programme will be delivered in close collaborations between Durham University, the University of Oxford, the University of Cambridge, the STFC's UK Astronomy Technology Centre in Edinburgh and RAL Space, together with leading international institutes.
The advanced manufacturing challenges presented by the project are providing UK companies with the opportunity to apply for contracts. A UK technology development centre based in North Wales is delivering prototypes for the primary mirror system, which will consist of 798 hexagonal mirrors each 1.4m wide. This development is aimed at securing a potential €100 million order for UK industry to manufacture the production segments.
Notes to editors
1.Subject to additional funding commitments from other partners, the E-ELT will be built in Chile by the European Southern Observatory (ESO). The full cost of the E-ELT is €1.1 billion (at 2012 prices) provided through ESO's 14 existing Member States and the accession of Brazil. The UK is a 16 per cent partner in ESO. Member states include most of Western Europe.
2.The funding will be over ten years from 2013. It is in addition to the £18 million per annum UK subscription to ESO and will come from within the BIS science and research programmes budget. The £88 million includes £35 million which will be awarded by STFC within the UK to instrument production, via UK research institutions and industry.
3.The eight great technologies were first described by the Chancellor in a speech at the Royal Society in November 2012. They are big data, space, robotics and autonomous systems, synthetic biology, regenerative medicine, agri-science, advanced materials and energy storage.
4.Today's announcement confirms a previous provisional 'ad referendum' vote by the UK (meaning it was subject to confirmation of being able to make such a long term financial commitment) at an ESO Council meeting in June 2012. 10 other nations have also signed up to the project. However ESO Council has decided the project requires commitment of at least 90 per cent of the funding before full construction can begin. The majority of the remaining funding is due to be secured when the Brazilian parliament ratifies the nation's accession to ESO.
5.The UK funding will be managed by STFC, on behalf of the UK astronomy community. STFC subscribes to ESO to give UK astronomers access to its telescopes.
6.Further information about the E-ELT can be found at the following pages:
The European Extremely Large Telescope
The biggest eye on the sky - E-ELT
The European Extremely Large Telescope Project
A video overview of how E-ELT will look and operate can be found here: http://www.eso.org/public/videos/eso1225c/
More videos can be downloaded from ESO's website: http://www.eso.org/public/videos/archive/category/e-elt/
More E-ELT images can be found here: http://www.eso.org/public/images/archive/category/e-elt/
These can all be used as long as ESO is credited.
Further images and information is available from the STFC press office.
Contacts:
Jake Gilmore STFC Media Manager Tel: 01793 442092 / 07970 994586 Email: jake.gilmore@stfc.ac.uk
Lucy Stone STFC Press Officer Tel: 01235 445627 / 07920 870125 Email: lucy.stone@stfc.ac.uk
7.The Science and Technology Facilities Council is keeping the UK at the forefront of international science and tackling some of the most significant challenges facing society such as meeting our future energy needs, monitoring and understanding climate change, and global security.
The Council has a broad science portfolio and works with the academic and industrial communities to share its expertise in materials science, space and ground-based astronomy technologies, laser science, microelectronics, wafer scale manufacturing, particle and nuclear physics, alternative energy production, radio communications and radar.
STFC operates or hosts world class experimental facilities and enables UK researchers to access leading international science facilities by funding membership of a number of international bodies.
STFC is one of seven publicly-funded research councils. It is an independent, non-departmental public body of the Department for Business, Innovation and Skills (BIS). For more information see www.stfc.ac.uk.
8.The government's economic policy objective is to achieve 'strong, sustainable and balanced growth that is more evenly shared across the country and between industries'. It set four ambitions in the 'Plan for Growth' (PDF 1.7MB), published at Budget 2011:
To create the most competitive tax system in the G20
To make the UK the best place in Europe to start, finance and grow a business
To encourage investment and exports as a route to a more balanced economy
To create a more educated workforce that is the most flexible in Europe.
Work is underway across government to achieve these ambitions, including progress on more than 250 measures as part of the Growth Review. Developing an Industrial Strategy gives new impetus to this work by providing businesses, investors and the public with more clarity about the long-term direction in which the government wants the economy to travel.
Published 3 March 2013