UK introduces Passport Passback visa service in Bahrain
New service lets UK visa applicants keep their passport while their application is processed.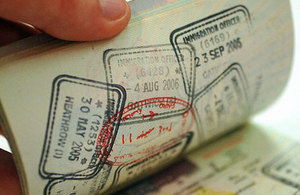 A brand new service, which allows visa applicants to keep their passport while their visa application is considered, has been introduced in Bahrain today. The service, which costs USD 64 / BHD 26 in addition to the visa fee, is ideal for visa applicants who need to travel, or apply for other visas at the same time as applying for their visa to visit the UK.
The service is available to all nationalities applying for a UK visa in Bahrain. It can be used for any type of visa application, including Tier 4 student visas. The service cannot be used together with the priority visa service.
The passport passback service can be selected during the online application process, or on arrival at the visa application centre. Those who choose the service will need to present their passport at their visa appointment, but will only need to hand over copies of the pages of their passport, along with their printed application form and any other supporting documents.
Once the decision on the application has been made, customers will be asked to resubmit their passport so that the UK visa can be placed into the passport. Customers can then either collect the passport shortly afterwards, or choose to have it returned by courier. This part of the process must be completed within four weeks.
In the last year, more than 11,000 visas were issued to Bahraini nationals, mostly for the purposes of holidays and short visits. Last month, average processing times for visa applications from Bahraini nationals were just over 6 days for standard applications, and 4 days for those using the Priority Visa service.
The UK welcomes visitors from Bahrain, and the British Embassy in Manama has launched a social media campaign this week to provide tips and support for visa applicants travelling to the UK during the summer.
For more details about additional visa services, and to check latest premium service fees please visit the VFS website
Published 15 July 2015