World news story
UK introduces optional priority visa service
On 31 March, the UK's visa application centre (VAC) in Lusaka moved to attractive new premises along Alick Nkhata Road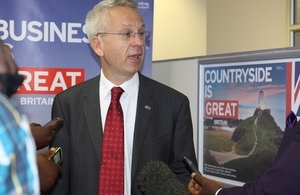 And Zambians were given the option of a faster visa application service.
At an event on 3 April, British High Commissioner, James Thornton, said:
"Zambians who need to go to the UK in a hurry can now use a service which will return their passports in five working days, instead of the normal service, which can take up to fifteen working days.
And the new premises offer a pleasant environment for Zambians when they come to deposit their visa applications. There is lots of light, and DSTV to watch while they wait for their appointments.
In many locations round the world we have outsourced our visa application centres to commercial partners. Surveys we have conducted suggest that customers are very happy with this. We are now doing the same in Zambia. This new centre is being operated by Fedex.
Fedex have run similar centres for us elsewhere. And they have taken on an experienced former member of the High Commission visa section to run this office. I am confident that they will do an excellent job.
We want to go on welcoming genuine visitors, students and businesspeople to the UK.
As before, I urge visa applicants to apply in good time before they travel, and to provide sufficient documentation to support their application."
Further information
The new Visa Application Centre accepts visa applications during the following hours: 08.30 to 11.40: Passport collection: 14:00 -15:00hrs. The centre is located at Corporate Park, Stand No. 20849 along Alick Nkhata Road

There is a new charge of £59 to use the Visa Application Centre. This will be in addition to the visa fee and will be charged at the point of booking the appointment and will cover the cost of providing the application submission facilities here.

The new priority visa service will cost an additional £100. The existing service will continue to be available. We aim to process 90% of non-settlement visa applications within fifteen working days and 98% within six weeks. We normally exceed these targets.

Apart from the new premises, the offer of the priority service and the new charge, visa application processes remain the same as before. Visa decisions will continue to be made by British Government staff at our regional hub in Pretoria. Staff at the new visa application centre will have no input into these decisions.

Across Africa the British Government has awarded the contract to run visa application centres to Teleperformance, a company running customer service operations throughout the world. In Zambia, Teleperformance have subcontracted to Fedex.

There have been recent problems in Zambia and elsewhere with the online application system, which became overloaded. The capacity of the system has been substantially increased, which should have solved the problem.

Further information will be available on the British High Commission website.

Contact the Press and Public Affairs Section for further information on +260 211 423200.
Published 3 April 2014