News story
UK International Development Secretary to attend World Economic Forum on Africa
Justine Greening will co-chair the Leadership Council of the New Alliance for Food Security and Nutrition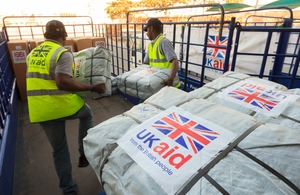 The UK's International Development Secretary Justine Greening will today co-chair the Leadership Council of the New Alliance for Food Security and Nutrition, taking place in Cape Town during the World Economic Forum on Africa.
The New Alliance was launched by US President Obama at the 2012 G8 summit, and aims to help lift 50 million people in sub-Saharan Africa out of poverty in the next 10 years by supporting agricultural development.
While in Cape Town, Justine Greening will hold discussions with a range of global economic leaders on the future of the Millennium Development Goals, helping set a future development agenda which is squarely focused on eradicating poverty.
She will attend the closing session of the Grow Africa Investment Forum, a high-level meeting designed to advance sustainable agricultural transformation in African agriculture.
She will co-chair the Leadership Council of the New Alliance alongside Nkosazana Dlamini-Zuma, Chairperson of the African Union Commission; and Josette Sheeran, Vice Chairman of the World Economic Forum.
Published 9 May 2013