World news story
UK-India partnership on energy and low carbon moves forward with the successful bilateral visit of Amber Rudd
The UK's Secretary of State Amber Rudd finished a two-day visit to India today.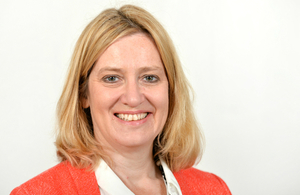 Her trip left her enthused by the breadth and depth of existing partnerships between the UK and India, and the potential to go even further.
Amber Rudd, Secretary of State for the Department of Energy and Climate Change (DECC) said:
The UK and India have much in common in our pursuit for secure, affordable and sustainable energy for our citizens. This visit has been an excellent opportunity to discuss our collaborations across the energy and low carbon spectrum. By bringing together our world class expertise in R&D, technology, finance and business I am confident we can make the low-carbon transformation a reality.
Strong UK-India collaboration on clean energy was welcomed by the Secretary of State at a meeting with the power and renewables ministries. This includes the £500,000 (5 Crore Rupees) of existing funding, now allocated to the Energy Access Policy Fund with the Ministry of New and Renewable Energy. The programme will assist India's efforts to increase sustainable energy access, including off-grid solutions.
During the visit the Secretary of State met the Minister for Environment, Forests and Climate Change, Prakash Javadekar, and Minster of State in the PMO, Jitendra Singh. Partnerships on energy and climate change were discussed as was Prime Minister Modi's upcoming visit to the UK. Urbanisation was also on the agenda with a visit to New Moti Bagh, an urban colony in the heart of Delhi, where she saw first-hand India's drive for cleaner, smarter cities.
At an evening event with UK and Indian businesses the Secretary of State highlighted the role of governments in creating the environment for businesses to flourish and innovate, and the importance of a global deal on climate change in December to send the right signals to investors and innovators. She concluded her visit today with a speech on the role of technology in delivering low-carbon growth.
For further information, please contact:
Stuart Adam, Head,
Press and Communications
British High Commission, Chanakyapuri
New Delhi 110021
Tel: 44192100; Fax: 24192411

Mail to: Kazim Rizvi
Follow us on Twitter, Facebook, Flickr, Storify, Eventbrite, Blogs, Foursquare, Youtube, Instagram, Vine, Snapchat @UKinIndia, Periscope @UKinIndia
Published 23 September 2015