World news story
UK-India can make GREAT smart cities together
The first of the roundtables will kick off in Amaravathi today February 17 followed by Bhopal on March1.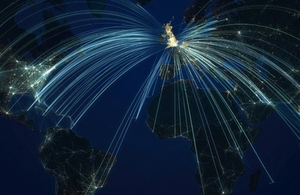 Indian Prime Minister Narendra Modi has initiated an ambitious plan of building 100 smart cities in India. During his visit to the UK in November 2015 both Prime Ministers agreed to a new five-year partnership to develop three smart cities in Amaravathi, Indore and Pune. As part of the initiative UK Trade & Investment (UKTI) along with Confederation of Indian Industries (CII) and India Electronics and Semi-conductor Association (IESA) are organising smart city roundtables to jointly explore opportunities between India and the UK in the development of Amaravathi, Pune and Indore smart cities.
Amaravathi is the newly announced capital region of Andhra Pradesh. The state government has a vision to make Amaravathi an example of a 'smart city', with fibre optic connectivity and smart infrastructure systems. British companies have world class consulting, project management and engineering skills that can help to plan, design and build these new cities. Seven UK companies will participate in the roundtable. During the roundtable the UK companies will connect with key decision makers from the government and Indian industry and key decision makers from the Urban Development Ministry, town planning, the local municipality, tourism department and Indian companies and identify opportunities in your geography to be a part of the smart cities dream.
British Deputy High Commissioner in Hyderabad, Andrew McAllister said:
The UK supports the 'Make in India' campaign, as does UK business. Our companies can help India across the entire span of the four-pillar smart city framework. We have expertise in infrastructure – from smart transport and mobility to water and waste management – in digital – particularly in fin tech and e-commerce – and in design, professional services, healthcare and e-governance. Through the roundtable event we are bringing together UK companies and Indian stakeholders to explore how we can work together on this. We want to take forward the agreement launched by Prime Minister Cameron during the recent visit to the UK of Prime Minister Modi, when he announced our commitment to support India's goal of '100 Smart Cities'. We are particularly excited to begin this programme in Andhra Pradesh, where there is a rare opportunity to build a smart city from scratch, with the development of a brand new state capital, Amaravathi.
Last year UK Trade Minister, Lord Francis Maude launched a report India's Smart Cities Programme - The UK offer to build together. The report analysed the strengths of UK companies in this sphere along with several areas where the UK's expertise would be useful to India, including physical (infrastructure including mass transport, water, waste management, built environment), digital (ICT, data, software, analytics and smart metering), commercial (professional services, regulatory standards, financing and legal), and social (municipal services, community-led designs and services, e-governance, healthcare), in line with the four pillars mentioned in the Government of India's draft framework for smart cities.
Further information:
The UK's core offer on smart cities
Spatial
Urban design, planning and architecture

UK architecture firms – 66,000 jobs, 12,000+ enterprises, £5.4 billion turnover, £350 million global exports in 2012
UK developed BREEAM green building standards and Building Information Management (BIM) software used internationally
Physical
Infrastructure, engineering and construction

UK construction and civil engineering firms lead major urban infrastructure developments worldwide
Digital
data, software and analytics

UK is a world leader in urban open data and spatial data analysis, modelling and visualisation
Commercial
project management, financing and real estate

UK strengths applied in global context for major infrastructure and urban development financing and project delivery
Social
public engagement and service design innovation

UK firms providing innovative user-centred service design solutions worldwide
Details of the round tables
| | | |
| --- | --- | --- |
| City | Date | Venue |
| Vijayawada | Wednesday, 17 February 2016 | The Gateway Hotel, Vijayawada |
| Bhopal | Tuesday, 01 March 2016 | Hotel Jehan Numa Palace, Bhopal |
UK Companies participating in the round tables
ARUP - Engineering consultant
North Gate – Specialised software solutions
GHK Consultant
PwC - Professional services
Siemens Ltd – Engineering
Atkins – Energy
Black & Veatch – Engineering
Vodafone – Telecom
Silicon Tech Limited - Technology
Links to UKTI smart cities report
India's smart cities programme - The UK offer to build together is the result of comprehensive primary and secondary research conducted from across different databases, and governmental websites.

GREAT for Collaboration is an ambitious and exciting new campaign to showcaseing India-UK business collaboration. The campaign, launched by Prime Minister Modi and Prime Minister Cameron, will inspire new partnerships and encourage greater awareness of the scale of the UK's commitment to India. The overall objective is to increase business between the two countries across a range of sectors, such as energy, healthcare, advanced manufacturing, financial services and infrastructure.
For media queries please contact
Stuart Adam, Head,
Press and Communications
British High Commission, Chanakyapuri
New Delhi 110021
Tel: 44192100; Fax: 24192411

Mail to: Jagori Dhar
Follow us on Twitter, Facebook, Flickr, Storify, Eventbrite, Blogs, Foursquare, Youtube, Instagram, Vine, Snapchat @UKinIndia, Periscope @UKinIndia
Document information
Published: 17 February 2016