World news story
UK increases humanitarian aid to Zimbabwe in response to El Nino induced drought
Through the Department for International Development (DFID), the UK has made an additional £40 million contribution resulting in a total contribution of £55.6 million (US$73.3 million) to the drought intervention.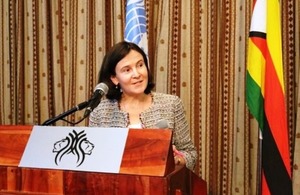 4.1 million people in Zimbabwe are expected to be unable to meet their food needs during the peak impact of the El Nino induced drought from January to March 2017.
The UK was one of the first international donors to respond in Zimbabwe. Since October 2015, through our partners CARE International and World Vision, the UK has provided humanitarian assistance to support over 360,000 people through the electronic mobile cash payments, in 15 districts worst affected by the drought. The scale up of our assistance means that the UK will continue to help vulnerable households meet seasonal needs ahead of the planting season and over the peak of the hunger gap, until the next harvest.
Annabel Gerry, Head of DFID Zimbabwe states
I am proud that the UK has been able to deliver this support through innovative electronic mobile payments. The use of this technology means that our support now extended to the end of March 2017, directly reaches those most in need. Evidence from the programme has shown that this allows women greater control over >household budgets, as well as stimulating existing local markets.
UK humanitarian support from September 2015 to March 2017 now totals £55.6 million ($73.3 million). This includes:
*An additional £32 million for electronic cash payments to the poorest, making a total of £42 millions (US$54.6 million);
*An additional £8 million (US$10 million) for prevention and treatment of acute malnutrition through which 160 000 children will be screened for malnutrition, and 12 000 will receive treatment, and
*£5,5 million (US$7.3 million) for child protection
NOTES TO EDITOR
The UK was one of the first donors to respond to widespread food insecurity resulting from a poor 2015 harvest and El Nino induced drought in Zimbabwe.
The humanitarian response programme provides support to 360 000 vulnerable people that are unable to meet their minimum food needs as a result of the El Nino induced drought affecting the Southern Africa Region.
The assistance is delivered through unconditional electronic mobile cash payments that aim to contribute to meeting the household food and nutritional needs and support livelihood recovery. The project also aims to prevent negative coping strategies, and to support good nutritional practices, improved knowledge of vulnerable household coping strategies is expected to support future resilience programming.
Electronic cash payments are already proving to be successful in supporting local markets and as well as womens control over household budgets. Full findings of a recent impact evaluation are detailed at: Emergency Cash-First Response To Drought Affected Communities Impact Evaluation Findings
The additional UK support on malnutrition announced today, responds to information from the July Zimbabwe Vulnerability Assessment (ZimVac) which showed increase in risk and occurrence of malnutrition as a result of the drought. This part of the UK's support will be delivered in partnership with UNICEF Zimbabwe.
The UK's support for child protection, comprises cash transfers to vulnerable households, and social protection services for vulnerable children. This is delivered through DFID's existing Child Protection Programme, and implemented by UNICEF Zimbabwe.
NOTE:
Exchange rate used for figures is GBP 1= USD 1.3
CONTACT
Margret Masanga, Head of Communications, British Mission Zimbabwe , Margret.Masanga@fco.gov.uk or mobile: 0772 102 862
Published 5 November 2016