UK Hydrographic Office wins National Apprenticeship Award
UK Hydrographic Office named the South West's 'Large Employer of the Year' at National Apprenticeship Awards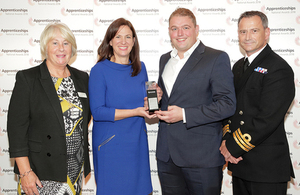 The UK Hydrographic Office (UKHO) has won the Royal Navy Award for 'Large Employer of the Year' within the South West, as announced during the regional National Apprenticeship Awards ceremony.
The National Apprenticeship Awards celebrate outstanding apprentices, employers and individuals who go above and beyond to champion apprenticeships across England. Having been announced as a regional finalist earlier in the year, the UKHO received the award for demonstrating best practice in recruitment, training, diversity and career progression.
The UKHO's apprenticeship scheme gives applicants an opportunity to gain an industry recognised qualification whilst getting hands on experience in the workplace as a paid employee. Its current intake includes over 50 apprentices across a wide range of roles that include software testing, data analysis, business administration, HR and many more.
Amy Carrillo, Head of People at the UKHO, commented:
"Since our first apprentice joined in 2016, we have now grown our programme both in numbers and variety. Today, we have 58 apprentices across digital, data and technology roles, as well as in management, finance, HR, marketing, customer services and more.
"Our success has depended on collaboration across the organisation and ensuring a close network between apprentices, line managers and training providers. We hope to expand and improve our offering in the future."
As part of the ceremony the UKHO also received a high commendation for the PeoplePlus Recruitment Excellence Award, which recognises employers who have attracted a diverse and high-quality apprenticeship workforce through new approaches to recruitment.
Published 27 September 2018