UK hosts International Paralympic Day for first time
With under a year to go until the London 2012 Paralympic Games, International Paralympic Day is being held in the UK. Foreign Office staff across the globe have been celebrating with a range of events and activities.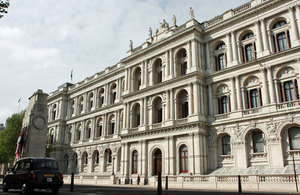 The UK aims to host the most accessible Olympic and Paralympic Games ever in 2012. Today International Paralympic Day is being held outside Germany for the first time. The International Paralympic Committee is officially inviting athletes and National Paralympic Committees to participate in the 2012 Games.
Leading UK and International athletes are taking part in the day's events including South African Paralympic gold medallist Oscar Pistorius. Trafalgar Square is alive with activities to give the public chance to find out more about the 20 sports featured in the 2012 Games next year, and even have a go at some of these.
To mark the day, Foreign Office Minister for the Olympics and Paralympics Jeremy Browne is attending an event with Brisbane-based Australian disability sport group 'Sporting Wheelies', which organises sports programmes for disabled people. He has also been interviewed by aspiring UK Paralympian Richard Sargent on what he hopes the Paralymics will say to the world about the UK. Watch this interview below.
29 August signalled a year to go until the start of the 2012 Paralympic Games. This date was a particularly important milestone for the UK, as it was the country that organised the 1948 Paralympic Games, including athletes with special needs in this competition for the first time. To mark a year to go until the end of the London 2012 Paralympic Games on 9 September 2012, Paralympic Games tickets will go on sale tomorrow. Check our tickets page for details or visit www.tickets.london2012.com.
Across the globe Foreign Office staff have been holding a range of paralympic themed activities. Those in Kigali held a sports day with the Rwandan paralympics team, which hopes to qualify for 2012. In Azerbaijan, our embassy joined forces with the British Council and the National Paralympic Committee to hold a sports day for 30 local kids, demonstrating that people of all abilities can take part in sport.
Meanwhile, staff in Kenya put on a display of the paralympic sports that will feature at the 2012 Games, giving members of the public the chance to paricipate. The High Commissioner in Pakistan held a reception for 2012 paralympic hopefuls. The British Embassy in Ecuador hosted an event with the Ecuadorean Ministry of Sports, including a performance by the Sinamune orchestra (integrated by musicians with special needs) and a tennis match involving Ecuadorean high performance wheelchair tennis players. In Japan, staff interviewed Ms Wakako Tsuchida, an accomplished wheelchair athlete, the winner of the 2010 London marathon, and a winner of gold medals at the summer and winter Paralympics. In the video she talks about her hopes for London 2012, for disabled sport more generally, and the first ever 'Green Games'.
Published 8 September 2011