UK hosts G20 anti-corruption group
The UK is hosting the first G20 Anti-Corruption Working Group meeting in London.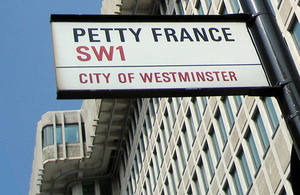 The two-day event will see G20 countries discussing how to make progress on the G20 Anti-Corruption Action Plan.
As co-chair of the Group, the UK is committed to combating corruption and enforcing laws against foreign bribery, effective implementation of the UN Convention Against Corruption and tracing and recovering stolen assets.
The first year of Plan has already seen significant progress with China criminalising foreign bribery, Russia participating in the OECD Anti-Bribery Working Group and India ratifying the UN Convention Against Corruption.
Speaking at the event, Justice Secretary Kenneth Clarke said:
'Corruption makes poor people poorer. It is an injustice that invariably inflicts suffering on the most vulnerable citizens of countries both inside and outside the G20.  
'It is down to us - both representatives of countries and international organisations - to turn the G20's ambitions into lasting achievements, and demonstrate definitively that international processes get results.'
Published 29 February 2012