World news story
UK helps to raise awareness of the Voluntary Principles in Angola
The British Ambassador, John Dennis met NGO Search for Common Ground to discuss their work on supporting the Voluntary Principles in Angola.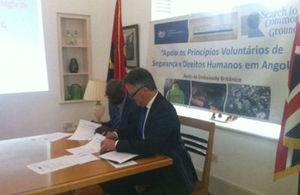 The British Ambassador, John Dennis met representatives from Search for Common Ground, civil society, local journalists and the Executive Coordinator of the Kimberley Process National Commission representing the Government of Angola to discuss their work in helping to raise awareness of the Voluntary Principles of Security and Human Rights (VPs) in Angola. Established in 2000, the Voluntary Principles are a set of guidelines designed specifically to help extractive sector companies maintain the safety and security of their operations within an operating framework that encourages respect for human rights.
The Ambassador also signed a project contract on the Voluntary Principles with Search for Common Ground that will help raise awareness of VPs in the province of Lunda-Norte, a very important region for Angola's diamond extractive industry. The project will establish a series of workshops in the province for local government officials, extractive companies, private and official security agencies and national and local civil society organisations to work together to implement the VPs in Angola.
The British Ambassador in Angola John Dennis said "we support this project to help the commitment of the Government of Angola to increase awareness and implement the Voluntary Principles in the country. This is a good example of how our collaboration with Angola will continue even after the United Kingdom's Chairmanship of the Voluntary Principles has finished."
Published 8 May 2015